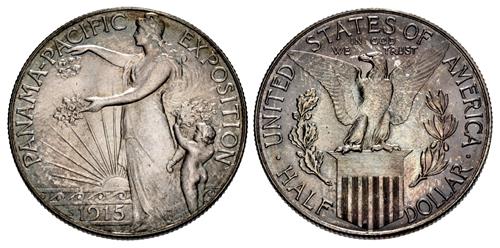 1915-S. Panama Pacific Exposition. Half Dollar. (30.6mm, 12.5 g).
CNG Keystone Auction 2: The Panama-Pacific Commemorative Set
Lot: 1. Estimated: $ 5 000
United States, Silver
Sold For $ 4 200. This amount does not include the buyer's fee.
1915-S. Panama Pacific Exposition. Half Dollar. In PCGS encapsulation, graded MS 67. (9357.67/38080871). Handsome blue, gold, and lavender iridescent hues over richly lustrous surfaces.

Ex Stack's (29 March 1973), lot 1016 (part of); H. C. McKown Auction (23 December 1936); Dr. J. A. Williams Collection, offered in The Numismatist, January 1931.

Designed by Chief Mint Engraver Charles E. Barber and his long-time assistant George T. Morgan, the Half Dollar shows Ms. Liberty scattering fruits and flowers from a cornucopia held by a small, nude child; beyond, sun and rays setting over the Golden Gate. Between the sun and the date are waves, illustrative of the nautical subjects of the Exposition. On the reverse, an eagle stands on a Union Shield, flanked by oak and olive branches.

Important Note:
The coins and the original copper frame will be offered individually, after which the coins and the frame will be offered as a complete set with an opening bid of one bid over the aggregate hammer prices of the individual lots. If a bid is placed on the full set, the coins and frame will be sold as a complete set, and the bids on the individual lots will be canceled. If there are no bids for the complete set, the hammer prices on the individual lots will be honored.

The final winners of all CNG Keystone Auction: The Panama-Pacific Commemorative Set lots will be determined at the live auction that will be held on 6 November 2019 starting at 1:00 PM ET.

Winning bids are subject to a 20% buyer's fee for bids placed on this website, 22.50% for all others.