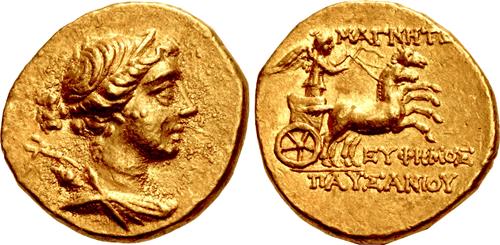 IONIA, Magnesia ad Maeandrum. Circa 125-120 BC. AV Stater (19mm, 8.43 g, 12h). Euphemos, son of Pausanias, "magistrate".
Triton XXIII – Session Two – Greek Coinage Part II through Roman Imperial Coinage Part I
Lot: 361. Estimated: $ 7 500
Greek, Gold
Sold For $ 6 500. This amount does not include the buyer's fee.
IONIA, Magnesia ad Maeandrum. Circa 125-120 BC. AV Stater (19mm, 8.43 g, 12h). Euphemos, son of Pausanias, "magistrate". Draped bust of Artemis right, wearing stephanos, hair drawn together and tied in the back, bow and quiver over shoulder / Nike, holding kentron in right hand, reins in left, driving fast biga of horses right; MAΓNHTΩN above, EYΦHMOΣ ΠAYΣANIOY in two lines below. CNG 111, lot 243 (same dies); CNG 106, lot 376 (same dies); Heritage 3096 (3 August 2017), lot 30066 (same dies); otherwise unpublished in the standard references. Underlying luster, some die rust. EF.

From the Jonathan P. Rosen Collection. Ex Roma XIV (21 September 2017), lot 147 (hammer £13000).

The name on this issue is the same as that on an issue of stephanephori that was struck circa 150-140 BC. Whether these two issues name the same individual is uncertain. In his study of the stephanephoroi of Magnesia, Jones connected that individual with the neokoros of the temple of Artemis Leukophryene named in an inscription dated to 112/1 BC (IC III iv 9). If this is correct, then it would be reasonable to assume that this individual was also responsible for the present issue of staters. It is also possible that these similarly-named individuals were two members of the same family, such as a grandfather and grandson.

The appearance of this previously unknown issue at Magnesia adds another city of western Asia Minor to the list of those that struck a gold coinage in the late Hellenistic period. Previously, such issues were known at Ephesos, Miletos, Smryna, and Tralles. Until Jenkins' study of the Ephesos staters in 1987 (see Jenkins, Hellenistic), all of these were previously thought to have been issues struck in celebration of Mithradates VI's liberation of the cities from Roman control. With the exception of Smyrna and a discrete portion of the issues of Ephesos, all are now known to have been struck in the mid-late 2nd century BC, as there are direct parallels between the staters and various cistophori struck in their respective cities. All of these staters are civic in nature, featuring the patron deity of the city on the obverse, and reverses referencing aspects of each city's particular civic identity.

The fact that Magnesia did not strike cistophori is one aspect that separates the present issue from the other cities' gold. Thus, the dating of the issue relies upon the assumption that the "magistrate" named is the same as that found on the stephanophoroi, as noted above. The reverse design also distinguishes this issue. While the obverse is unexceptional, featuring the same profile portrait of Artemis found on the stephanephoroi and later bronze issues, the reverse with Nike driving a fast biga is quite perplexing, as it does not apparently represent an aspect of the civic mythology or identity, but rather an actual event. The type likely commemorates some victory that had a local significance, but our knowledge of Magnesia's history in the second century BC is scant. There are no political or military actions that are known for the period, but the type may be related to the games of the Leukophryena, which was an important panhellenic festival in honor of Artemis Leukophryene. If the "magistrate" named on the coin is the individual who held the position of the temple neokoros in 112/1 BC, then such a connection is quite likely.

The final winners of all Triton XXIII lots will be determined at the live public sale that will be held on 14-15 January 2020. Triton XXIII – Session Two – Greek Coinage Part II through Roman Imperial Coinage Part I will be held Tuesday afternoon, 14 January 2020 beginning at 2:00 PM ET.

Winning bids are subject to a 20% buyer's fee for bids placed on this website and in person at the public auction, 22.50% for all others.