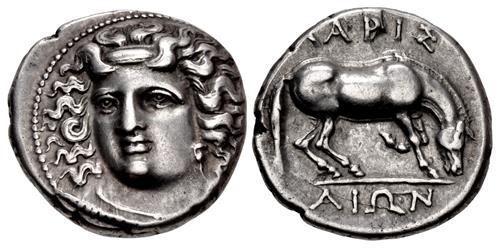 THESSALY, Larissa. Circa 356-342 BC. AR Drachm (21mm, 6.09 g, 6h).
CNG Keystone Auction 1: Part I of the Style Collection
Lot: 4. Estimated: $ 750
Greek, Silver
Sold For $ 600. This amount does not include the buyer's fee.
THESSALY, Larissa. Circa 356-342 BC. AR Drachm (21mm, 6.09 g, 6h). Head of the nymph Larissa facing slightly left, hair in ampyx, wearing single-pendant earring and necklace / Horse standing right, preparing to lie down. Lorber, Hoard, Phase L-III; BCD Thessaly II 319; HGC 4, 454 corr. (illustration for 453 and 454 switched). Lightly toned. Reverse die break. A couple very light hairline cleaning marks. Good VF. Struck from an attractive obverse die, with a strong pair of eyes.

From the Style Collection.

Larissa's series of beautiful facing-head staters and drachms from the mid-4th century BC clearly owe their inspiration to Kimon's facing-head tetradrachm of Syracuse, circa 405 BC, depicting Arethousa, nymph of the spring of Ortygeia. Larissa is similarly depicted as a water nymph of a local spring, although in mythology she is also described as the daughter of Pelasgus, one of the first inhabitants of Greece.

Closing Date and Time: 20 November 2019 at 10:01:00 ET.

Winning bids are subject to a 20% buyer's fee for bids placed on this website, 22.50% for all others.