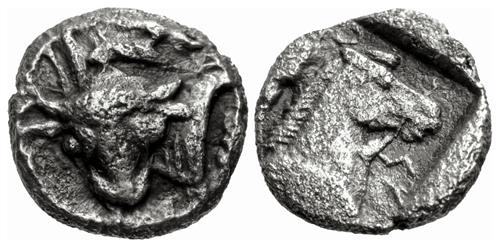 THESSALY, Skotoussa. Circa 462/1-460 BC. AR Obol (10mm, 0.87 g, 9h).
Electronic Auction 472
Lot: 65. Estimated: $ 75
Greek, Silver
Sold For $ 900. This amount does not include the buyer's fee.
THESSALY, Skotoussa. Circa 462/1-460 BC. AR Obol (10mm, 0.87 g, 9h). Head and neck of bull left, turning to face viewer; above, dolphin left / Head and neck of bridled horse right; all within incuse square. Liampi, Corpus 1 (V1/R1); BCD Thessaly I 1331 (same dies; hammer CHF 4000); HGC 4, 596. Porous. VF. Extremely rare.

From the Asher D. Atchick Collection. Ex BCD Collection (Classical Numismatic Group Electronic Auction 290, 7 November 2012), lot 111.

A note from BCD from the Nomos sale: Liampi knew of only three Taurokathapsia obols for Skotussa; two more have surfaced since her article was written, the last one selling for $15,000 (CNG MBS 85, 15 September 2010, lot 328). Christodoulos made a forgery out of this last type (see JIAN XXI, pl. G. 187 for the obverse, the reverse is unpublished) that was quite successful as copies were offered as genuine by Jacques Schulman, Auction 265, 28 September 1976, lot 12; Robert Myers, FPL November 1977, 52; and Joel Malter 49, 15 November 1992, 369. Two out of these three forgeries are now in this collector's Black Cabinet; the whereabouts of the Myers piece is not known to this writer.

Closing Date and Time: 15 July 2020 at 10:21:20 ET.

All winning bids are subject to an 18% buyer's fee.