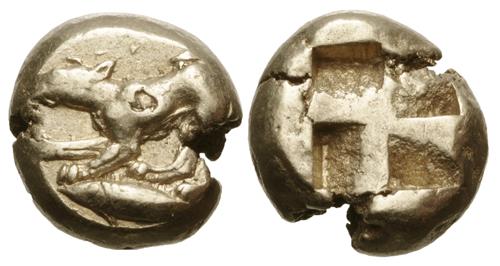 MYSIA, Kyzikos. Circa 550-450 BC. EL Hekte – Sixth Stater (9mm, 2.71 g).
Electronic Auction 474
Lot: 95. Estimated: $ 200
Greek, Electrum
Sold For $ 275. This amount does not include the buyer's fee.
MYSIA, Kyzikos. Circa 550-450 BC. EL Hekte – Sixth Stater (9mm, 2.71 g). Hound (or wolf) at bay left on tunny left / Quadripartite incuse square. Von Fritze I –; Boston MFA 1470 corr. = Warren 1565 corr. (not Fritze 93); SNG BN 232 corr. (same); CNG 102, lot 363. Banker's mark on obverse, edge splits. VF.

This type is very similar to Von Fritze I 93, but on that issue, the hound/wolf is clearly raising a forepaw (cf. SNG BN 230). The appearance of the stater of this issue (CNG 102, lot 362) makes it clear that some of the fractions attributed to Von Fritze 93 are actually of the same variety, and have been known for some time. For instance, the hekte CNG 99, lot 182 is clearly Von Fritze 93, with a forepaw raised, while the present piece, with forepaw lowered, is not. Unfortunately, on some dies the foreleg is engraved straight out, such that it is not possible to discern to which variety a coin can be attributed (cf. SNG BN 231 [hekte] and Roma 10, lot 484 [stater]), unless the straight leg constitutes even another variety.

Closing Date and Time: 12 August 2020 at 10:31:20 ET.

All winning bids are subject to an 18% buyer's fee.