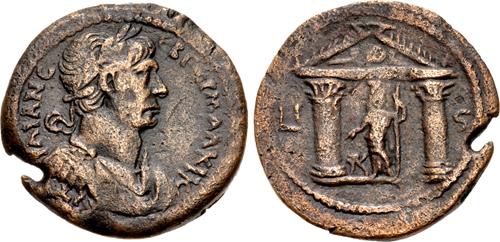 EGYPT, Alexandria. Trajan. AD 98-117. Æ Drachm (32.5mm, 17.12 g, 12h). Dated RY 16 (AD 112/113).
CNG Feature Auction 115
Lot: 466. Estimated: $ 300
Roman Provincial, Bronze
Sold For $ 400. This amount does not include the buyer's fee.
EGYPT, Alexandria. Trajan. AD 98-117. Æ Drachm (32.5mm, 17.12 g, 12h). Dated RY 16 (AD 112/113). Laureate, draped, and cuirassed bust right / Serapis standing left, hand over Kerberos to left and holding scepter; all within distyle temple with two Nikae holding a globe in the pediment; L I ς (date) across field. Köln 624 var. (stele instead of Kerberos); Dattari (Savio) 1148 var. (same); K&G 27.498 var. (same); RPC III 4694.1 (this coin cited) = Kellner p. 103, pl. 4, Abb. 10 (this coin); Emmett 581.16 var. (same). Brown and tan surfaces, some porosity, natural flan flaw. VF. Rare variety with Kerberos.

From the Toliver Besson Collection. Ex CNG Inventory 997438 (February 2015); A.K. Collection (Triton XVIII, 6 January 2015), lot 977 (E009).

This type is normally encountered with a stele next to Serapis on the reverse, but on this coin the stele looks more like a stylized Kerberos. When one compares the photos for RPC III 4694.3 (stele) and 4694.4 (Kerberos), it is the opinion of this cataloguer that on this coin it is Kerberos being depicted.

The final winners of all CNG Feature Auction 115 lots will be determined during the live online sale that will be held on 16-17 September 2020. This lot is in Session 2, which begins 16 September 2020 at 2 PM ET.

Winning bids are subject to a 20% buyer's fee for bids placed on this website and 22.50% for all others.

We recognize that our users may have various Internet Browsers and Operating Systems. We like our visitors to have the best possible experience when using our bidding platform. However, we do recognize that it is impossible to develop applications that work identically, efficiently and effectively on all web browsers The CNG bidding platform supports Mozilla Firefox (version 60+) and Chrome (version 67+).