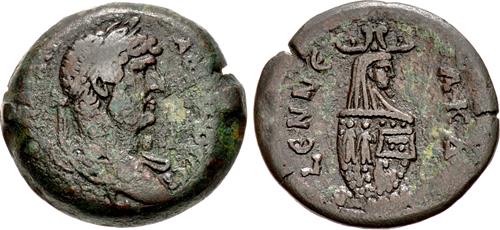 EGYPT, Alexandria. Hadrian. AD 117-138. Æ Drachm (34mm, 27.28 g, 12h). Dated RY 19 (AD 134/135).
CNG Feature Auction 115
Lot: 484. Estimated: $ 500
Roman Provincial, Bronze
Sold For $ 600. This amount does not include the buyer's fee.
EGYPT, Alexandria. Hadrian. AD 117-138. Æ Drachm (34mm, 27.28 g, 12h). Dated RY 19 (AD 134/135). Laureate, draped, and cuirassed bust right / Canopic jar of Osiris right, ornamented and wearing Atef crown; L ЄNNЄ AKΔ (date) around. Köln 1172 var. (obv. bust type & jar not ornamented); Dattari (Savio) 1652-3, 1655, 7585-7; K&G 32.663; RPC III 5974; Emmett 932.19. Dark green and reddish-brown patina, some light roughness. VF.

From the Rocky Mountain Collection of Alexandrian.

Canopic jars were used to store the organs that were removed from the body during the mummification process, specifically the lungs, liver, stomach, and intestines. The term "canopic" to describe such vessels is a misnomer, being derived from the port city of Canopus, where the god Osiris was worshipped in the form of a jar.

The final winners of all CNG Feature Auction 115 lots will be determined during the live online sale that will be held on 16-17 September 2020. This lot is in Session 2, which begins 16 September 2020 at 2 PM ET.

Winning bids are subject to a 20% buyer's fee for bids placed on this website and 22.50% for all others.

We recognize that our users may have various Internet Browsers and Operating Systems. We like our visitors to have the best possible experience when using our bidding platform. However, we do recognize that it is impossible to develop applications that work identically, efficiently and effectively on all web browsers The CNG bidding platform supports Mozilla Firefox (version 60+) and Chrome (version 67+).