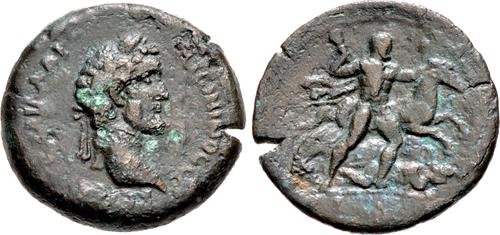 EGYPT, Alexandria. Antoninus Pius. AD 138-161. Æ Drachm (34.5mm, 22.46 g, 12h). Labors of Herakles series. Dated RY 6 (AD 142/143).
CNG Feature Auction 115
Lot: 492. Estimated: $ 750
Roman Provincial, Bronze
Sold For $ 1 600. This amount does not include the buyer's fee.
EGYPT, Alexandria. Antoninus Pius. AD 138-161. Æ Drachm (34.5mm, 22.46 g, 12h). Labors of Herakles series. Dated RY 6 (AD 142/143). Laureate head right / Herakles and the Mares of Diomedes – Herakles standing right, nude but for lion's skin over his left shoulder and billowing out behind him, holding the mane of one of Diomedes' mares with his left hand and preparing to strike it with his club held with his right hand; a fallen mare behind him to the left; Diomedes laying prostrate to the right before him on the ground; [L ς] (date) in exergue. Köln –; Dattari (Savio) 8505 (this coin); K&G –; RPC IV.4 Online 15223/2 (this coin cited and illustrated); Emmett 1553.6 (this regnal year not listed in his chart in error, as the reverse of this type is illustrated on p. 74B). Dark brown patina with touches of green, a few pits. Near VF. Extremely rare. Emmett lists this type as being struck for just one of Pius' regnal years, 10, but as noted above, he should have listed it for RY 6 also. Another variant exists with the scene reversed, with Herakles standing left (Emmett 1552), which is known for years 5 and 6.

From the Stein A. Evensen Collection. Ex Group CEM (Classical Numismatic Group 88, 14 September 2011), lot 1096; Münzen und Medaillen AG 46 (28 April 1972), lot 209; Giovanni Dattari Collection, no. 8505.

The four mares of the giant Diomedes, king of the Bistones in Thrace, had a nightmarish taste for human flesh. It was Herakles' task to steal them, and he set about doing so with a cortege including the Lokrian youth Abderos, a beloved of the hero, who in the midst of the story is eaten by the horses. Herakles, according to some renderings, was so distraught that he fed Diomedes to his own mares in revenge. The Thracian town of Abdera was founded nearby Abderos' grave.

The final winners of all CNG Feature Auction 115 lots will be determined during the live online sale that will be held on 16-17 September 2020. This lot is in Session 2, which begins 16 September 2020 at 2 PM ET.

Winning bids are subject to a 20% buyer's fee for bids placed on this website and 22.50% for all others.

We recognize that our users may have various Internet Browsers and Operating Systems. We like our visitors to have the best possible experience when using our bidding platform. However, we do recognize that it is impossible to develop applications that work identically, efficiently and effectively on all web browsers The CNG bidding platform supports Mozilla Firefox (version 60+) and Chrome (version 67+).