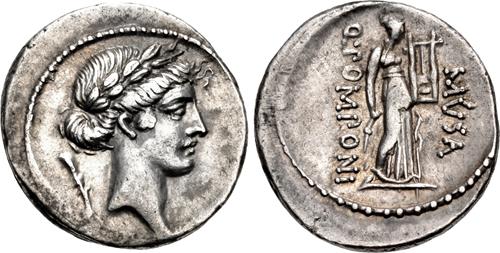 Q. Pomponius Musa. 56 BC. AR Denarius (18.5mm, 3.97 g, 7h). Rome mint.
CNG Feature Auction 115
Lot: 574. Estimated: $ 1 500
Roman Republican, Silver
Sold For $ 2 250. This amount does not include the buyer's fee.
Q. Pomponius Musa. 56 BC. AR Denarius (18.5mm, 3.97 g, 7h). Rome mint. Laureate head of Apollo right; handle of plectrum to left / Erato, the Muse of Erotic Poetry, standing right, holding plectrum at side with right hand and lyre with left. Crawford 410/7d corr. (obv. symbol and rev. type); Sydenham 820a corr. (same); Pomponia 17a corr. (same); RBW –; see P. Davis, "Erato or Terpsichore: A Reassessment" in FIDES, for the identification of the muse as Erato. Lightly toned, hairline scratches. Good VF.

This type is called "Terpsichore" by Crawford and most other authors, but Phil Davis has recently identified this coin type as Erato. A complete discussion of this subject can be found in the article Phil wrote for the festschrift created for the late Rick Witschonke (FIDES, pp. 393-401). Phil's logic is very sound and will make completing a set of Muses much easier as the previously rare, known from a single die, Erato is now shown to be a die variety. (Davis identifies the obverse turtle symbol as being for Terpsichore.)

The final winners of all CNG Feature Auction 115 lots will be determined during the live online sale that will be held on 16-17 September 2020. This lot is in Session 2, which begins 16 September 2020 at 2 PM ET.

Winning bids are subject to a 20% buyer's fee for bids placed on this website and 22.50% for all others.

We recognize that our users may have various Internet Browsers and Operating Systems. We like our visitors to have the best possible experience when using our bidding platform. However, we do recognize that it is impossible to develop applications that work identically, efficiently and effectively on all web browsers The CNG bidding platform supports Mozilla Firefox (version 60+) and Chrome (version 67+).