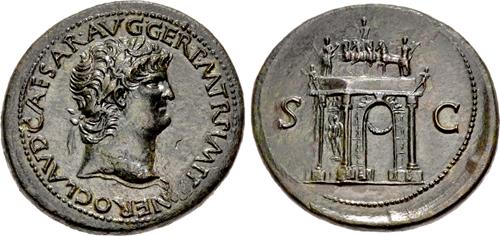 Nero. AD 54-68. Æ Sestertius (37.5mm, 24.98 g, 6h). Lugdunum (Lyon) mint. Struck circa AD 65.
CNG Feature Auction 115
Lot: 625. Estimated: $ 2 000
Roman Imperial, Bronze
Sold For $ 3 750. This amount does not include the buyer's fee.
Nero. AD 54-68. Æ Sestertius (37.5mm, 24.98 g, 6h). Lugdunum (Lyon) mint. Struck circa AD 65. Laureate head right, globe at point of neck / Triumphal arch surmounted by statue of emperor in quadriga accompanied by Pax and Victory, flanked by two soldiers (torch bearers?), a nude, helmeted statue of Mars in side niche of arch, otherwise decorated with friezes of battle scenes. RIC I 432; WCN 422; Lyon 113. Dark brown and green patina, some red, area of double strike on obverse, smoothed. Good VF.

From the Stein A. Evensen Collection. Ex Classical Numismatic Group Electronic Auction 296 (13 February 2013), lot 250.

This monumental triumphal arch was erected by Nero to commemorate Roman military campaigns against the Parthians in Mesopotamia and Armenia. Although not particularly successful in a military sense, with Paetus losing almost his entire army at Randeia in Armenia, the war did end with a peace treaty favorable to Rome that was upheld for nearly fifty years. This coin type is vitally important for architectural historians, for the arch was dismantled after Nero's ignominious end in 68 and is only known through its depiction on the coins.

The final winners of all CNG Feature Auction 115 lots will be determined during the live online sale that will be held on 16-17 September 2020. This lot is in Session 2, which begins 16 September 2020 at 2 PM ET.

Winning bids are subject to a 20% buyer's fee for bids placed on this website and 22.50% for all others.

We recognize that our users may have various Internet Browsers and Operating Systems. We like our visitors to have the best possible experience when using our bidding platform. However, we do recognize that it is impossible to develop applications that work identically, efficiently and effectively on all web browsers The CNG bidding platform supports Mozilla Firefox (version 60+) and Chrome (version 67+).