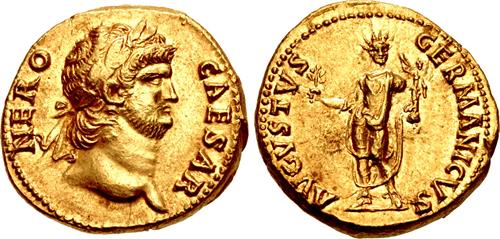 Nero. AD 54-68. AV Aureus (18.5mm, 7.28 g, 5h). Rome mint. Struck circa AD 64-65.
CNG Feature Auction 115
Lot: 630. Estimated: $ 10 000
Roman Imperial, Gold
Sold For $ 25 000. This amount does not include the buyer's fee.
Nero. AD 54-68. AV Aureus (18.5mm, 7.28 g, 5h). Rome mint. Struck circa AD 64-65. NERO CAESAR, laureate head right / AVGVSTVS GERMANICVS, Nero, radiate and togate, standing facing, left knee slightly bent, holding branch in right hand and Victory on globe in left. RIC I 46; WCN 22; Calicó 402a; BMCRE 56-9; BN 202-5; Biaggi 221; Jameson 50; Mazzini 44; CNG 97, lot 621 (same dies). Lustrous, a few minor die breaks on reverse. EF. Wonderful portrait. A finely detailed example.

Ex Numismatica Ars Classica 21 (17 May 2001), lot 388.

The reverse depicts Nero's Colossus, a roughly 120-foot tall bronze statue of the emperor as Sol that was created by Zenodorus for the vestibule of the Domus Aurea, or Golden House, the massive palace constructed by Nero after the fire of AD 64. Its memory was retained in the popular name of the amphitheater constructed by the Flavians close to the site – the Colosseum.

The final winners of all CNG Feature Auction 115 lots will be determined during the live online sale that will be held on 16-17 September 2020. This lot is in Session 2, which begins 16 September 2020 at 2 PM ET.

Winning bids are subject to a 20% buyer's fee for bids placed on this website and 22.50% for all others.

We recognize that our users may have various Internet Browsers and Operating Systems. We like our visitors to have the best possible experience when using our bidding platform. However, we do recognize that it is impossible to develop applications that work identically, efficiently and effectively on all web browsers The CNG bidding platform supports Mozilla Firefox (version 60+) and Chrome (version 67+).