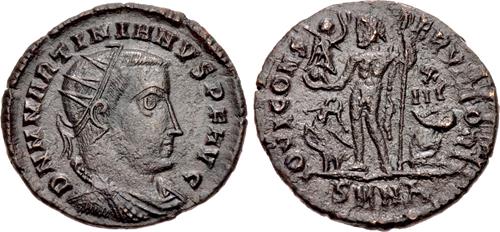 Martinian. Usurper, AD 324. Æ Follis (20mm, 2.99 g, 5h). Nicomedia mint, 1st officina.
CNG Feature Auction 115
Lot: 717. Estimated: $ 3 000
Roman Imperial, Bronze
Sold For $ 11 000. This amount does not include the buyer's fee.
Martinian. Usurper, AD 324. Æ Follis (20mm, 2.99 g, 5h). Nicomedia mint, 1st officina. D N M MARTINIANVS P F AVG, radiate, draped, and cuirassed bust right / IOVI CONS ERVATORI, Jupiter, naked except for cloak over left shoulder, standing left, holding Victory on globe in right hand and eagle-tipped scepter in left; to left, eagle standing left, head right, holding wreath in its beak; to right, bound captive seated right, head left; –|X/IIΓ//SMNA. RIC VII 45; Hunter 1 var. (officina). Dark brown surfaces, light roughness. Good VF. Very rare.

Proof that history does repeat itself can be found in the sad tale of Martinian, a puppet ruler installed by the Eastern Roman Emperor Licinius in the midst of his second civil war against Constantine I "the Great." Martinian was of obscure origins, but by the mid AD 320s he had risen to become the chief minister of Licinius, just as it became apparent that a final clash with Constantine was imminent. Though Licinius had a bigger army, Constantine was much the better general and inflicted a heavy defeat on his rival in Thrace on July 3, AD 324. Crossing to Chalcedon, Licinius declared Constantine deposed and raised Martinian to the office of Augustus, with instructions to prevent Constantine from crossing into Asia Minor. Constantine easily evaded Martinian's blocking force, landed in Asia and cornered Licinius at Nicomedia. Having no choice, Licinius surrendered on terms brokered by his wife (and Constantine's sister) Constantia. Martinian went into exile in Cappadocia, but was executed a few months later when Licinius was detected plotting a return to power. Seven years before, under virtually identical circumstances, Licinius had appointed Valerius Valens to a similar role, with almost identical results.

Like those of Valerius Valens, coins of Martinian are quite rare and limited to a single issue from the mint of Nicomedia. Surviving examples tend to be heavily worn or damaged, but this specimen is in an exceptional state of preservation. The reverse evokes "Jupiter the Protector," Licinius' patron deity, who notably failed to protect him and Martinian from the wrath of Constantine and his Christian god.

The final winners of all CNG Feature Auction 115 lots will be determined during the live online sale that will be held on 16-17 September 2020. This lot is in Session 3, which begins 17 September 2020 at 9 AM ET.

Winning bids are subject to a 20% buyer's fee for bids placed on this website and 22.50% for all others.

We recognize that our users may have various Internet Browsers and Operating Systems. We like our visitors to have the best possible experience when using our bidding platform. However, we do recognize that it is impossible to develop applications that work identically, efficiently and effectively on all web browsers The CNG bidding platform supports Mozilla Firefox (version 60+) and Chrome (version 67+).