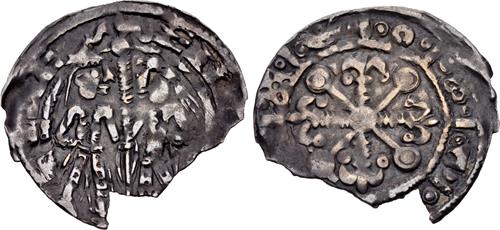 NORMAN, Civil War. Stephen and Queen Matilda. Circa 1150-1153/4. AR Penny (19mm, 0.89 g). Two-Figure type, 'York Group' (Mack 5). York mint.
CNG Feature Auction 115
Lot: 1095. Estimated: $ 2 500
British, Silver
Sold For $ 5 500. This amount does not include the buyer's fee.
NORMAN, Civil War. Stephen and Queen Matilda. Circa 1150-1153/4. AR Penny (19mm, 0.89 g). Two-Figure type, 'York Group' (Mack 5). York mint. [+ STI]E EN[ER], Stephen and Matilda standing facing one another, holding between them long scepter fleurée / Cross fleurée over cross pommée in saltire; various ornaments around. Allen, York 85 (dies B/c, not examined) = Mack 220q = R. Thoresby, Ducatus Leodiensis or, the Topography of the Ancient and Populous Town and Parish of Leedes, and Parts Adjacent in the West-Riding of the County of York. (London. 1715), p. 351, no. 130 (this coin); SCBI 12 (Ashmolean), 282-4 (same obv. die); North 922; SCBC 1315. Chipped. Toned. VF. Very rare.

Ex Morton & Eden 91 (7 December 2017), lot 73; Ralph Thoresby (1658-1724); Archbishop Sharp (1644-1714); 1684 Catal (Cattal, near Knaresborough) Hoard.

Dr. John Sharp (1644-1714) was a clergyman who rose through the offices of the Church of England to become Archbishop of York in 1691. Sharp started collecting coins in 1687 and focused his energies primarily on the issues of the British Isles, acquiring many highly important rarities. Sharp was in contact with several other leading numismatists of his age, including Ralph Thoresby, to whom he addressed his manuscript, Observations on the Coinage of England, published in 1785. The great 19th Century numismatist, Roger Ruding, regarded this work as, "the first systematic treatise ever composed on the subject." On Sharp's death, the collection was left to his son and was kept together for some 250 years by his descendants. In the words of the late Harry Manville, 'Sharp pedigrees are among the oldest available in British numismatics.'

The discovery in the Gloucester archives of manuscripts written by both Archbishop Sharp and his son, Thomas Sharp, detailing an inventory of the Archbishop's coins, has allowed some of them to be confidently pedigreed to this famous collection. The manuscript of Thomas Sharp further notes that this coin, with the legend "[...]E EN[...]," is "evidently the same described by Mr Thoresby n. 130" in his 1715 Ducatus Leodiensis, where it was noted as originating from the 1684 Catal Hoard.

The final winners of all CNG Feature Auction 115 lots will be determined during the live online sale that will be held on 16-17 September 2020. This lot is in Session 4, which begins 17 September 2020 at 2 PM ET.

Winning bids are subject to a 20% buyer's fee for bids placed on this website and 22.50% for all others.

We recognize that our users may have various Internet Browsers and Operating Systems. We like our visitors to have the best possible experience when using our bidding platform. However, we do recognize that it is impossible to develop applications that work identically, efficiently and effectively on all web browsers The CNG bidding platform supports Mozilla Firefox (version 60+) and Chrome (version 67+).