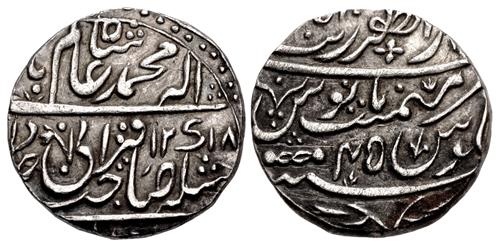 INDIA, Independent States. Zebabad. Begum Joanna Nobilis Sombre (Begum Samru). AH 1166-1252 / 1753-1837. AR Rupee (23mm, 11.06 g, 12h). In the name of the Mughal emperor Shah Alam II (AH 1174-1221 / 1759--1806). Dar al-Zafar Zebabad mint. Dually dated AH
Triton XXIII – Session Three – Roman Imperial Coinage Part II through World Coinage Part I
Lot: 973. Estimated: $ 20 000
Islamic, Indian, & Related, Silver
Sold For $ 13 000. This amount does not include the buyer's fee.
INDIA, Independent States. Zebabad. Begum Joanna Nobilis Sombre (Begum Samru). AH 1166-1252 / 1753-1837. AR Rupee (23mm, 11.06 g, 12h). In the name of the Mughal emperor Shah Alam II (AH 1174-1221 / 1759--1806). Dar al-Zafar Zebabad mint. Dually dated AH 1218 and RY 45 of Shah Alam (1803). Persian couplet sikka zad sahab qirani ze tayeed-e-elah, hami dine muhammad shah alam badshah (Struck coins like the Sahib-i-qiran by the help of God, Defender of the faith of Muhammad, the emperor Shah Alam); AH date to right / Mint and RY date formulas; mint name visible at top . KM 1 corr. (AH date read as 12XX); Zeno 197790 corr. (AH date read as 1217; same rev. die). Toned, trace of deposits on reverse, scratches. EF. Extremely rare.

Even the most imaginative of Hollywood scriptwriters would struggle to conceive of a story as extraordinary as that of Begum Samru. Her parents, an Arab trader and a Kashmiri, named her Zeb-un-Nissa which means "Ornament of her sex". She started life as a common dancing girl but, using her considerable talents and charms, rose to become a warrior princess of a small kingdom to the north east of Delhi, striking her own coins and leading her armies into battle against the British and the Sikhs in defence of the crumbling Mughal Empire. She formed lasting relationships with three European soldiers of fortune. The first, an Austrian called Walter Reinhart, had come to India in the pay of the French who named him 'Le Sombre' on account of his fearsome character and swarthy complexion. 'Le Sombre' was adapted to 'Samru' by the Indian soldiers in Reinhardt's command and on marrying him, Zeb-un-Nissa was to become Begum Samru of Sardhana, the prosperous territory that the Mughal Emperor Shah Alam had granted Reinhardt in return for military service. After Reinhardt's death in 1778 Begum Samru was able to maintain her position in the face of overwhelming odds. A convert to Catholicism - taking the baptismal name Joanna - she gained recognition by the Pope who in 1822 elevated the status of her church in Sardhana to a cathedral and bestowed on her the title 'Nobilis'. After her death in 1836 her adopted son, David Ochterlony Dyce Samru, travelled to England and made a successful entry into high society and was elected a Member of Parliament for the seat of Sudbury in 1841.

The final winners of all Triton XXIII lots will be determined at the live public sale that will be held on 14-15 January 2020. Triton XXIII – Session Three – Roman Imperial Coinage Part II through World Coinage Part II will be held Wednesday morning, 15 January 2020 beginning at 9:00 AM ET.

Winning bids are subject to a 20% buyer's fee for bids placed on this website and in person at the public auction, 22.50% for all others.