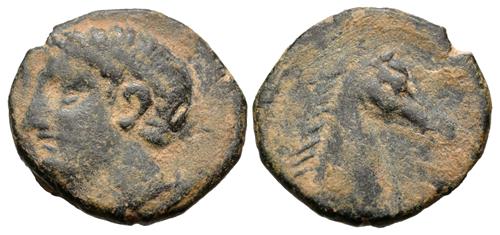 IBERIA, Punic Iberia. Circa 237-209 BC. Æ Fifth Unit (15mm, 2.35 g, 12h).
Electronic Auction 478
Lot: 2. Estimated: $ 100
Greek, Bronze
Sold For $ 100. This amount does not include the buyer's fee.
IBERIA, Punic Iberia. Circa 237-209 BC. Æ Fifth Unit (15mm, 2.35 g, 12h). Male head left / Head of horse right. MHC 283; Robinson, Punic, Series 8, d (Gades); ACIP 610. Earthen green patina, light cleaning scratches. Near VF.

From the Todd Hansen Collection, purchased from Frank Kovacs.

In his 1956 article on the Punic coins of Spain, Robinson noted that this issue, which he placed at Gades, had a particular styles of obverse portrait that he suggested was Roman in character, and stuck in parallel with a similar group in his Series 7 at Carthago Nova. Robinson thought that these 'Roman' style coins belonged to the period after the Romans captured the Carthago Nova in 209 BC, and that their obverse shows the portrait of Scipio Africanus. His view of this coinage has not been adopted by later scholars, though, who maintain that all of these coins belong to the Punic period. While the 'Roman' portrait style is distinct in character, there is no evidence beyond speculation to date any of this issue to the Roman period at Carthago Nova or elsewhere in Spain.

Closing Date and Time: 7 October 2020 at 10:00:20 ET.

All winning bids are subject to an 18% buyer's fee.