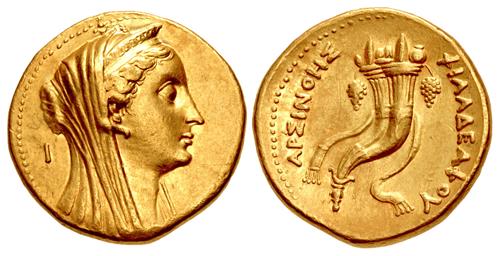 PTOLEMAIC KINGS of EGYPT. Arsinoe II Philadelphos. Died 270/268 BC. AV Mnaieion – 'Oktadrachm' (27mm, 27.76 g, 12h). Alexandreia mint. Struck under Ptolemy II, circa 252/1-250/49 BC.
Triton XXIV
Lot: 31. Estimated: $ 7 500
Merani Collection – Greek, Coin-in-Hand Video, Gold
Sold For $ 18 000. This amount does not include the buyer's fee.
PTOLEMAIC KINGS of EGYPT. Arsinoe II Philadelphos. Died 270/268 BC. AV Mnaieion – 'Oktadrachm' (27mm, 27.76 g, 12h). Alexandreia mint. Struck under Ptolemy II, circa 252/1-250/49 BC. Head right with ram's horn, veiled and wearing stephanos; lotus-tipped scepter in background, I to left / APΣINOHΣ ΦIΛAΔEΛΦOY, double cornucopia, grape bunches hanging at sides, bound with fillet. CPE 389; Svoronos 471; Olivier & Lorber dies 2/4; Troxell, Arsinoe, Group 3, p. 44 and pl. 7, 2 (same obv. die); SNG Copenhagen –; Adams III 2091 (same obv. die); Boston MFA Supp. 320; de Luynes 3562 (same obv. die). Underlying luster, a few minor scratches. Good VF.

From the Peter J. Merani Collection. Ex Classical Numismatic Group Electronic Auction 226 (27 January 2010), lot 305.

Arsinoë II, wife (and sister) of Ptolemy II, exerted a powerful influence on her younger mate – her experience in statecraft coming from her earlier marriage to Lysimachos of Thrace – and her subsequent involvement in the turbulent politics of the successor kingdoms. After her death in 271 BC, her devoted husband deified her, and initiated a cult in her honor. The temple he intended to construct (plans cut short by his own death) in her name was to have an iron ceiling with a statue of Arsinoë, made entirely of lodestone, suspended in the air beneath it. That grandiose plan came to nothing, but the series of large value gold and silver coins struck in her name was a suitable memorial. As noted by Lorber, the letters behind her bust are die sequence numbers, though it is still not proven whether they note annual issues. Under Ptolemy II, these large gold coins served a variety of purposes. The early issues were struck during the time of the Second Syrian War, but while some probably were used toward war finance, Lorber noted that these issues were too large to be solely for that purpose. The later issues were marked by an early spike in production; to Lorber, the evidence is fairly convincing that these were primarily related to the resettlement of veterans following the Second Syrian War and the reclamation of land in the villages of the Fayum. The issues of Arsinoe gold came to an end soon after the accession of Ptolemy III, but later kings sporadically issued more of them, a phenomenon that lasted into the middle of the 2nd century BC. These issues are characterized by a less refined style in type and epigraphy, and their late chronology is confirmed by finds, though the reason for their reissue is unknown. Nearly all of these late issues bear a kappa behind the head of Arsinoe, but there are also very rare issues with other letters, such as the lambda on the present coin. While the former are present in most major collections, the latter are found in only a very few.

The final winners of all Triton XXIV lots will be determined during the live online sale that will be held on 19-20 January 2021. This lot is in Session One, which begins 19 January 2021 at 9 AM ET.

Winning bids are subject to a 20% buyer's fee for bids placed on this website and 22.50% for all others.

We recognize that our users may have various Internet Browsers and Operating Systems. We like our visitors to have the best possible experience when using our bidding platform. However, we do recognize that it is impossible to develop applications that work identically, efficiently and effectively on all web browsers. The CNG bidding platform supports Mozilla Firefox (version 60+) and Chrome (version 67+).