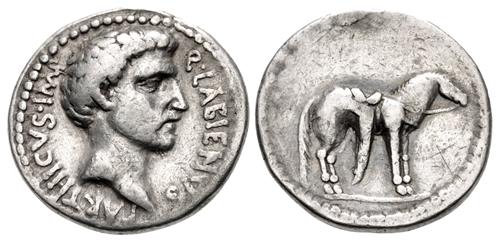 The Republicans. Labienus. Early 40 BC. AR Denarius (18mm, 3.74 g, 5h). Uncertain mint in Syria or southeastern Asia Minor.
Triton XXIV
Lot: 57. Estimated: $ 15 000
Merani Collection – Roman Republican, Coin-in-Hand Video, Silver
Sold For $ 13 000. This amount does not include the buyer's fee.
The Republicans. Labienus. Early 40 BC. AR Denarius (18mm, 3.74 g, 5h). Uncertain mint in Syria or southeastern Asia Minor. Bare head right; Q • LABIENVS PARTHICVS • IMP around from upper right / Horse standing right on ground line, wearing saddle with quiver attached and bridle. Crawford 524/2; Hersh 21 (dies E/19?); CRI 341; RSC 2; Sydenham 1357; RBW 1809. Lightly toned, minor marks and scratches, reverse graffito. VF. One of the great rarities in the Roman Imperatorial series.

From the Peter J. Merani Collection. Ex Berk BBS 153 (13 March 2007), lot 249.

Hersh records only 34 total specimens struck from eight obverse and twenty reverse dies. This coin is either struck from an unknown die marriage, or the reverse is from a die not known to Hersh–probably the latter.

Quintus Labienus' father, a loyal Republican despite his distinguished service to Caesar in Gaul, died at the battle of Munda in 45 BC. His son joined the Republican cause and was sent to Persia to negotiate a pact of assistance with Orodes I, remaining at the Parthian court after the defeat of Brutus and Cassius in 42 BC. Orodes, concerned about the growing Roman presence in Asia and learning of growing dissatisfaction in the provinces, sent his son Pacorus and a large and heavily armored cavalry force with Labienus on an invasion of Syria in 40 BC. Labienus quickly subdued Syria and Cilicia and sent forces into Lycia and Caria before Ventidius Bassus arrived from Greece with eleven legions. Labienus and his allies were driven back to Cilicia, where the Parthian cavalry was routed at Mt. Taurus and Labienus was killed. Labienus, the last of the Republicans, died a traitor to Rome, and all but a handful of his coinage was melted down after his defeat.

The final winners of all Triton XXIV lots will be determined during the live online sale that will be held on 19-20 January 2021. This lot is in Session One, which begins 19 January 2021 at 9 AM ET.

Winning bids are subject to a 20% buyer's fee for bids placed on this website and 22.50% for all others.

We recognize that our users may have various Internet Browsers and Operating Systems. We like our visitors to have the best possible experience when using our bidding platform. However, we do recognize that it is impossible to develop applications that work identically, efficiently and effectively on all web browsers. The CNG bidding platform supports Mozilla Firefox (version 60+) and Chrome (version 67+).