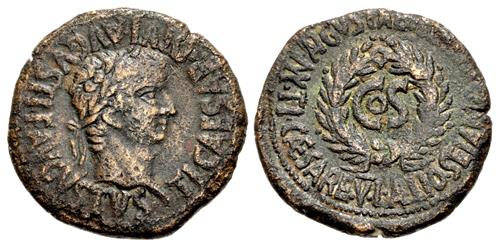 Tiberius. AD 14-37. Æ As (28mm, 12.03 g, 8h). Bilbilis mint in Spain; L. Aelius Sejanus, praetorian consul. Struck AD 31.
Triton XXIV
Lot: 103. Estimated: $ 1 000
Merani Collection – Roman Imperial, Bronze, Coin-in-Hand Video
Sold For $ 4 250. This amount does not include the buyer's fee.
Tiberius. AD 14-37. Æ As (28mm, 12.03 g, 8h). Bilbilis mint in Spain; L. Aelius Sejanus, praetorian consul. Struck AD 31. TI CAESAR DIVI AVGVSTI F AVGVSTVS, laureate head right / (MVN) • (AV)GVSTA BIL[BILIS] above, • TI • CÆSARE • V • L • ÆLIO • SEIAN[O] below, laurel wreath containing COS. ACIP 3024; RPC I 398. Brown surfaces, portions of legend on reverse flattened in an act of damnatio memoriae. VF. Most of the name of Sejanus visible. Rare.

From the Peter J. Merani Collection. Ex Atlantis Inventory 5459 (10 July 2004).

Lucius Aelius Sejanus came from an up-and-coming equestrian family. Early in his career, Sejanus served with Augustus' grandson Gaius in the east, and may have accompanied Drusus Caesar north to quell the mutinies that broke out upon Augustus' death. He was made praefectus praetorio (commander of the Praetorian Guard) along with his father Lucius Seius Strabo, but when Strabo was promoted to the post of praefectus Aegypti, Sejanus took sole command of the Guard. As head of a force of 12,000 loyal soldiers, he used his position to gain influence over Tiberius.

In AD 23, upon the death of Drusus Caesar, Sejanus proposed marrying Drusus' widow Livilla, with whom he was allegedly having an affair. So indispensable had he become in maintaining order in the capital that Tiberius called him "the partner of my labors," a position that Sejanus carefully built upon following the emperor's retirement to Capri in AD 26. Using the emperor's absence to his advantage, Sejanus imprisoned Germanicus' widow, Agrippina Senior, her sons Nero and Drusus, and their supporters on charges of treason. In AD 31, Sejanus served as consul with Tiberius – the first step, he hoped, in acquiring tribunician power and becoming the imperial heir. Although Sejanus' position seemed unassailable, Tiberius became aware of Sejanus' machinations and condemned his consular colleague in a letter to the Senate. Sejanus and his children were executed, reprisals followed against his adherents, and the Senate issued a damnatio memoriae.

The final winners of all Triton XXIV lots will be determined during the live online sale that will be held on 19-20 January 2021. This lot is in Session One, which begins 19 January 2021 at 9 AM ET.

Winning bids are subject to a 20% buyer's fee for bids placed on this website and 22.50% for all others.

We recognize that our users may have various Internet Browsers and Operating Systems. We like our visitors to have the best possible experience when using our bidding platform. However, we do recognize that it is impossible to develop applications that work identically, efficiently and effectively on all web browsers. The CNG bidding platform supports Mozilla Firefox (version 60+) and Chrome (version 67+).