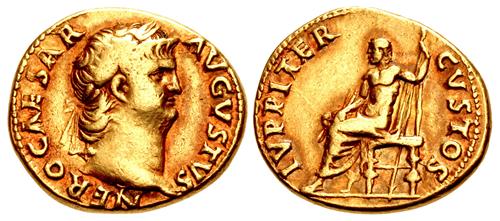 Nero. AD 54-68. AV Aureus (18.5mm, 6.48 g, 6h). Rome mint. Struck circa AD 64-65.
Triton XXIV
Lot: 136. Estimated: $ 3 000
Merani Collection – Roman Imperial, Coin-in-Hand Video, Gold
Sold For $ 4 000. This amount does not include the buyer's fee.
Nero. AD 54-68. AV Aureus (18.5mm, 6.48 g, 6h). Rome mint. Struck circa AD 64-65. NERO CΛESAR AVGVSTVS, laureate head right / IVPPITER CVSTOS, Jupiter, bare to waist, cloak around lower limbs, seated left on throne, holding thunderbolt in right hand and reversed spear in left. RIC I 52 var. (scepter); WCN 25 ; Calicó 412 var. (same); BMCRE 67-73 var. (same); BN 213-9 var. (same); Adda 31 var. (same); Biaggi 225 (same obv. die); Mazzini 118 var. (same). Attractive red toning characteristic of aurei from Boscoreale. VF. Rare with Jupiter holding spear.

From the Peter J. Merani Collection. Ex Classical Numismatic Group 94 (18 September 2013), lot 1147; Goldberg 42 (23 September 2007), lot 136.


The final winners of all Triton XXIV lots will be determined during the live online sale that will be held on 19-20 January 2021. This lot is in Session One, which begins 19 January 2021 at 9 AM ET.

Winning bids are subject to a 20% buyer's fee for bids placed on this website and 22.50% for all others.

We recognize that our users may have various Internet Browsers and Operating Systems. We like our visitors to have the best possible experience when using our bidding platform. However, we do recognize that it is impossible to develop applications that work identically, efficiently and effectively on all web browsers. The CNG bidding platform supports Mozilla Firefox (version 60+) and Chrome (version 67+).