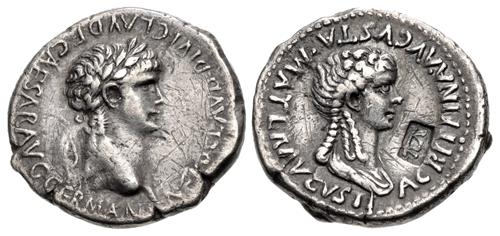 Nero, with Agrippina Junior. AD 54-68. AR Drachm (17.5mm, 3.61 g, 12h). Caesarea mint in Cappadocia.
Triton XXIV
Lot: 139. Estimated: $ 1 000
Merani Collection – Roman Imperial, Coin-in-Hand Video, Silver
Sold For $ 1 300. This amount does not include the buyer's fee.
Nero, with Agrippina Junior. AD 54-68. AR Drachm (17.5mm, 3.61 g, 12h). Caesarea mint in Cappadocia. NERO CLAVD • DIVI • CLAVD • F • CAESAR AVG GERMANI, laureate head of Nero right / AGRIPPINA • AVGVSTA • MATER AVGVSTI •, draped bust of Agrippina Junior right; c/m: ligatured KK. RPC I 3637.5 (this coin); Sydenham 78 var.; for c/m: Howgego 850 (this coin listed). Toned, numerous scratches and marks under tone. VF. Rare.

From the Peter J. Merani Collection. Ex Classical Numismatic Group 58 (19 September 2001), lot 955; Classical Numismatic Group 51 (15 September 1999), lot 965; Walter Niggeler Collection (Part II, Leu/Münzen und Medaillen AG, 21 October 1966), lot 659; Franz Trau Collection (Gilhofer & Ranschburg, 22 May 1935), lot 394.

The Trau Collection was formed and maintained by three generations of an Austrian family from circa 1870 to the 1930s. Carl Trau (1811-1887) was a chemist in Vienna who branched out into importing tea and other luxury goods from the Orient. A founding member of the Austrian Numismatic Society, his collecting interest focused on Medieval coinage. His son Franz Sr. (1842-1905) carried on the family business and refocused the numismatic collection on ancient coins, particularly Roman Imperial issues. Franz Jr. (1881-1931) oversaw the first Trau auction of about 2,300 coins, medals and books by Egger in January 1904 and continued to build the collection over the next two and half decades. The greater part of the collection was sold by Adolph Hess, with Gilhofer and Ranschburg, at two auctions in 1935 and 1936. The Traus were quite eclectic and systematic in their collecting, acquiring Roman coins in all metals and denominations, including great rarities seldom offered before or since.

The final winners of all Triton XXIV lots will be determined during the live online sale that will be held on 19-20 January 2021. This lot is in Session One, which begins 19 January 2021 at 9 AM ET.

Winning bids are subject to a 20% buyer's fee for bids placed on this website and 22.50% for all others.

We recognize that our users may have various Internet Browsers and Operating Systems. We like our visitors to have the best possible experience when using our bidding platform. However, we do recognize that it is impossible to develop applications that work identically, efficiently and effectively on all web browsers. The CNG bidding platform supports Mozilla Firefox (version 60+) and Chrome (version 67+).