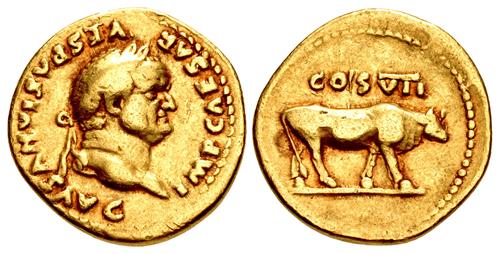 Vespasian. AD 69-79. AV Aureus (19.5mm, 7.01 g, 6h). Rome mint. Struck AD 76.
Triton XXIV
Lot: 151. Estimated: $ 3 000
Merani Collection – Roman Imperial, Coin-in-Hand Video, Gold
Sold For $ 3 000. This amount does not include the buyer's fee.
Vespasian. AD 69-79. AV Aureus (19.5mm, 7.01 g, 6h). Rome mint. Struck AD 76. IMP CΛESAR VESPΛSIΛNVS ΛVG, laureate head right / COS VII, heifer of Myron standing right. RIC II.1 840; Calicó 622a (same rev. die as illustration); BMCRE 176; BN –; Adda 53; Biaggi 314; Mazzini 117 (same rev. die); Triton I, lot 1356 (same rev. die). Toned. Near VF.

From the Peter J. Merani Collection. Ex Classical Numismatic Review XLII.1 (Winter 2017), no. 446675.

The reverse is thought to represent the bronze heifer by Myron, the 5th century BC Athenian sculptor. Vespasian placed the monumental work in his Templum Pacis (Temple of Peace), which was constructed following the close of the Jewish War. The temple complex doubled as a sort of public museum, where many of the spoils from the sack of Jerusalem were displayed alongside prominent works of art.

The final winners of all Triton XXIV lots will be determined during the live online sale that will be held on 19-20 January 2021. This lot is in Session One, which begins 19 January 2021 at 9 AM ET.

Winning bids are subject to a 20% buyer's fee for bids placed on this website and 22.50% for all others.

We recognize that our users may have various Internet Browsers and Operating Systems. We like our visitors to have the best possible experience when using our bidding platform. However, we do recognize that it is impossible to develop applications that work identically, efficiently and effectively on all web browsers. The CNG bidding platform supports Mozilla Firefox (version 60+) and Chrome (version 67+).