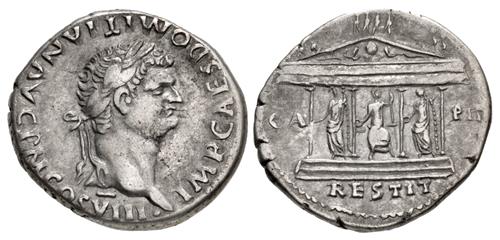 Domitian. AD 81-96. AR Cistophorus (26mm, 11.07 g, 6h). Rome mint (for circulation in Asia). Struck AD 82.
Triton XXIV
Lot: 159. Estimated: $ 750
Merani Collection – Roman Imperial, Coin-in-Hand Video, Silver
Sold For $ 1 200. This amount does not include the buyer's fee.
Domitian. AD 81-96. AR Cistophorus (26mm, 11.07 g, 6h). Rome mint (for circulation in Asia). Struck AD 82. IMP CAES DOMITIAN AVG P M COS VIII, laureate head right / CA PIT across field, RESTIT in exergue, tetrastyle Capitoline Temple, on podium of three steps; in center, Jupiter seated facing, holding scepter in left hand; to left and right, Juno and Minerva standing facing, each holding scepter; uncertain group in pediment; on roof, facing quadriga in center, bigae(?) on corners. RIC II.1 841; RPC II 864; RSC 23; BMCRE 251 var. (four steps; Ephesus?); BN 221 var. (same; Ephesus?). Toned. VF. Rare.

From the Peter J. Merani Collection. Ex Classical Numismatic Group 57 (4 April 2001), lot 1166.

While no decisive evidence exists for the location of the mint of the cistophori during the reigns of Vespasian through Trajan, the style, legends, and, in particular, the consistent die axis point to Rome, suggesting that these coins were minted in the capital and then sent to Asia for local use.

The final winners of all Triton XXIV lots will be determined during the live online sale that will be held on 19-20 January 2021. This lot is in Session One, which begins 19 January 2021 at 9 AM ET.

Winning bids are subject to a 20% buyer's fee for bids placed on this website and 22.50% for all others.

We recognize that our users may have various Internet Browsers and Operating Systems. We like our visitors to have the best possible experience when using our bidding platform. However, we do recognize that it is impossible to develop applications that work identically, efficiently and effectively on all web browsers. The CNG bidding platform supports Mozilla Firefox (version 60+) and Chrome (version 67+).