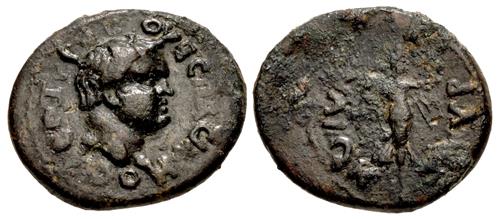 Vespasian Junior. Caesar, AD ?-95/6. Æ (17.5mm, 2.16 g, 12h). Smyrna mint in Ionia. Struck circa AD 94-95.
Triton XXIV
Lot: 162. Estimated: $ 750
Merani Collection – Roman Imperial, Bronze, Coin-in-Hand Video
Sold For $ 850. This amount does not include the buyer's fee.
Vespasian Junior. Caesar, AD ?-95/6. Æ (17.5mm, 2.16 g, 12h). Smyrna mint in Ionia. Struck circa AD 94-95. OYЄCΠACIANOC NEΩTEPOC, bare head right / (retrograde Z)MYP NAIΩN, Nike advancing right, holding wreath in right hand and palm frond in left. Klose Type XLII, Serie A, Gruppe a, 1 (V1/R2); RPC II 1028; Vagi 1165. Green-brown patina, some encrustations on reverse. VF. Rare.

From the Peter J. Merani Collection, purchased from Frank L. Kovacs.

One of the greatest problems facing Domitian toward the end of his reign was the lack of an heir – a problem which he solved by adopting two sons of his niece Domitilla and her husband Titus Flavius Clemens, renaming the heirs Vespasian Junior and Domitian Junior. Becoming suspicious of Flavius, Domitian exiled him along with Domitilla to Pandateria on charges of atheism. As nothing further is recorded about either adopted heir, it can be assumed that both were punished in some way for the supposed crimes of their parents.

The final winners of all Triton XXIV lots will be determined during the live online sale that will be held on 19-20 January 2021. This lot is in Session One, which begins 19 January 2021 at 9 AM ET.

Winning bids are subject to a 20% buyer's fee for bids placed on this website and 22.50% for all others.

We recognize that our users may have various Internet Browsers and Operating Systems. We like our visitors to have the best possible experience when using our bidding platform. However, we do recognize that it is impossible to develop applications that work identically, efficiently and effectively on all web browsers. The CNG bidding platform supports Mozilla Firefox (version 60+) and Chrome (version 67+).