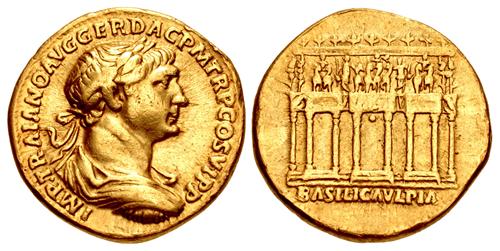 Trajan. AD 98-117. AV Aureus (18.5mm, 7.03 g, 6h). Rome mint. Struck circa AD 112-113.
Triton XXIV
Lot: 166. Estimated: $ 3 000
Merani Collection – Roman Imperial, Coin-in-Hand Video, Gold
Sold For $ 11 000. This amount does not include the buyer's fee.
Trajan. AD 98-117. AV Aureus (18.5mm, 7.03 g, 6h). Rome mint. Struck circa AD 112-113. IMP • TRAIANO AVG GER DAC P M TR P COS VI P P, laureate, draped, and cuirassed bust right / BΛSILICΛ VLPIA in exergue, octastyle façade of the Basilica Ulpia: above the colonnade are statues, a facing quadriga in center, standing warriors to left and right, facing bigas to left and right, two signa to the far left and right; above the statutes, a flat roof with ornaments. RIC II 247; Beckmann, Early Group II, 3f (dies a16/B3 – this coin); Woytek 399f (same rev. die as illustration); Strack 202β; Calicó 988 (same dies as illustration); BMCRE 492; BN 660 (same dies); Biaggi 466 (same dies); Jameson 91 (same dies); Mazzini 42 v. (same dies). Toned, a few marks and scratches. VF. Rare. A wonderful historic and architectural reverse type.

From the Peter J. Merani Collection. Ex Edward J. Waddell Inventory C38590; Vinchon (29 October 1962), lot 23.

The Basilica Ulpia, located in the Forum of Trajan, was an ancient Roman civic building. Completed about AD 112, it was dedicated to the administration of commerce, justice, and the presence of the emperor. It was named after Trajan whose full name was Marcus Ulpius Traianus.

The final winners of all Triton XXIV lots will be determined during the live online sale that will be held on 19-20 January 2021. This lot is in Session One, which begins 19 January 2021 at 9 AM ET.

Winning bids are subject to a 20% buyer's fee for bids placed on this website and 22.50% for all others.

We recognize that our users may have various Internet Browsers and Operating Systems. We like our visitors to have the best possible experience when using our bidding platform. However, we do recognize that it is impossible to develop applications that work identically, efficiently and effectively on all web browsers. The CNG bidding platform supports Mozilla Firefox (version 60+) and Chrome (version 67+).