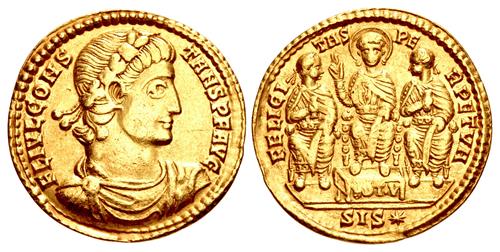 Constans. AD 337-350. AV Solidus (21mm, 4.37 g, 12h). Siscia mint. Struck AD 337-340.
Triton XXIV
Lot: 190. Estimated: $ 5 000
Merani Collection – Roman Imperial, Coin-in-Hand Video, Gold
Sold For $ 7 500. This amount does not include the buyer's fee.
Constans. AD 337-350. AV Solidus (21mm, 4.37 g, 12h). Siscia mint. Struck AD 337-340. FL IVL CONS TANS P F AVG, laureal and rosette-diademed, draped, and cuirassed bust right / FELICI TAS PE RPETVA, Constantine II enthroned, nimbate, facing, his right hand raised in benediction and his footstool inscribed VOT•V; on either side, Constantius II and Constans, diademed, seated facing, their heads turned toward Constantine II and in the right hand of each is a mappa; SIS*. RIC VIII 18A; Depeyrot 4/1; cf. Biaggi 2102. A few marks and scratches, traces of deposits. VF. Very rare. One of three examples in CoinArchives.

From the Peter J. Merani Collection. Ex Rauch 77 (10 April 2006), lot 674 (hammer €5400).

The central figure of Constantine II on the reverse is shown with his head surrounded by a nimbus or halo, a symbol of divine power originally associated with the sun god Sol. Here it is used to indicate the elevated status of Constantine II as Maximus Augustus in the triumvirate of imperial rulers. Antoninus Pius was the first emperor to have nimbate appear on coins, but the symbol was seen only rarely on coins of subsequent rulers until the time of the Tetrarchy, when Diocletian and his colleagues freely used the nimbus to signify their semi-divine authority. This continued under Constantine I and his sons, when it also became associated with Christianity. Constantine II also has his hand raised in benediction, helping to illustrate the both his piety and divine endorsement. Emperors continued to sport the nimbus into the early Byzantine era (see lots 194, 207 and 212), but after Phocas it was reserved explicitly for Christ, the Virgin Mary and the saints.

The final winners of all Triton XXIV lots will be determined during the live online sale that will be held on 19-20 January 2021. This lot is in Session One, which begins 19 January 2021 at 9 AM ET.

Winning bids are subject to a 20% buyer's fee for bids placed on this website and 22.50% for all others.

We recognize that our users may have various Internet Browsers and Operating Systems. We like our visitors to have the best possible experience when using our bidding platform. However, we do recognize that it is impossible to develop applications that work identically, efficiently and effectively on all web browsers. The CNG bidding platform supports Mozilla Firefox (version 60+) and Chrome (version 67+).