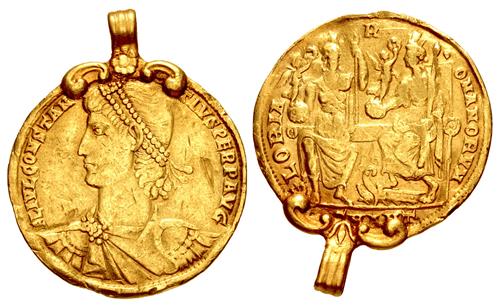 Constantius II. AD 337-361. AV Medallion of 2 Solidi (29mm, 9.73, with bezel g, 6h). Antioch mint. Struck AD 353-354.
Triton XXIV
Lot: 192. Estimated: $ 7 500
Merani Collection – Roman Imperial, Coin-in-Hand Video, Gold
Sold For $ 9 000. This amount does not include the buyer's fee.
Constantius II. AD 337-361. AV Medallion of 2 Solidi (29mm, 9.73, with bezel g, 6h). Antioch mint. Struck AD 353-354. FL IVL CONSTAN TIVS PERP AVG, pearl-diademed, draped, and cuirassed bust left / GLORIA R OMANORVM, Roma seated facing and Constantinopolis seated half-left with right foot on prow, each holding Victory on globe in right hand and scepter in left; SMANT. Gnecchi 18 var. (•SMANT•); RIC VIII 72; Depeyrot p. 297; Grueber –; Froehner –; Tocci –; Dressel 234 note = J. Friedlaender & A. von Sallet, Das königliche Münzkabinet II (Berlin, 1877), p. 12 = L. Berger, Thesaurus Brandenburgicus Selectus II (Berlin, 1696-1701), p. 817; Toynbee pl. XXXVII, 3; Cohen 131 var. (•SMANT•). Scattered marks and scratches, in original gold mount. VF. Extremely rare, only two examples published, both in museum collections (Berlin and Oxford [ill. in Toynbee]).

From the Peter J. Merani Collection. Ex Classical Numismatic Group 84 (5 May 2010), lot 1541 (hammer $12,000); Markov 7 (29 September 1999), lot 211.

RIC 72 erroneously cross references to Gnecchi 18 and Cohen 131, but these refer to the type with pellets flanking the mintmark (RIC 161). Depeyrot lists only two examples in his 1996 work on Roman gold coins, but only cites the Oxford specimen. The other coin must be the piece in the Königliche Münzkabinet in Berlin.

Beginning in AD 350, the western portion of the Roman Empire underwent a period of rebellion and usurpation. Magnentius, a member of the Roman bureaucracy, taking advantage of the troubles of Constantius II with Persia, revolted and murdered Constans, the western emperor. Unable to go west and subdue Magnentius, Constantius II apparently allowed for two "legal" usurpations to occur: those of Nepotian in Rome, and Vetranio in Siscia. The lack of long-term success in both cases prompted Constantius II to appoint his cousin Gallus as Caesar. While Gallus held down the east, Constantius II would then head west to put down the rebellion and restore order. Although Gallus proved to be a difficult subordinate, his presence afforded Constantius II valuable time to quell the disturbance. The death of Magnentius in AD 353 effectively ended the revolt. Not to be outdone by his senior, Gallus, beginning in AD 353, prepared for a war against Persia. The conclusion of the revolt of Magnentius was the occasion for the minting of these very rare commemorative medallions. The presence of Rome sitting side-by-side with Constantinople suggests a reunion of the heretofore disjoined parts, and the use of this type on coins of both Constantius and Gallus reflects a restoration of the government to that before Magnentius' revolt. Such a restoration, however, was short-lived. By AD 354, Gallus had become such a liability that he was executed on imperial orders.

The final winners of all Triton XXIV lots will be determined during the live online sale that will be held on 19-20 January 2021. This lot is in Session One, which begins 19 January 2021 at 9 AM ET.

Winning bids are subject to a 20% buyer's fee for bids placed on this website and 22.50% for all others.

We recognize that our users may have various Internet Browsers and Operating Systems. We like our visitors to have the best possible experience when using our bidding platform. However, we do recognize that it is impossible to develop applications that work identically, efficiently and effectively on all web browsers. The CNG bidding platform supports Mozilla Firefox (version 60+) and Chrome (version 67+).