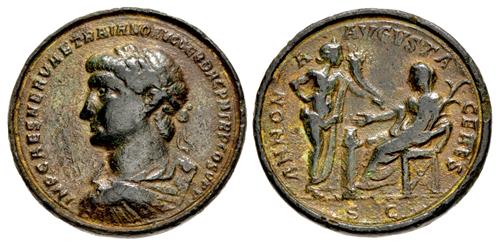 Contorniates. Late 4th century AD. Æ Contorniate (37mm, 22.37 g, 6h). In the name of Trajan.
Triton XXIV
Lot: 202. Estimated: $ 2 000
Merani Collection – Roman Imperial, Bronze, Coin-in-Hand Video
Sold For $ 7 000. This amount does not include the buyer's fee.
Contorniates. Late 4th century AD. Æ Contorniate (37mm, 22.37 g, 6h). In the name of Trajan. IMP CAES NERVAE TRAINO AVG GER DAC P M TR P COS V PP, laureate, draped and cuirassed bust left; palm frond to left / ANNON A AVGVSTA CERES, SC in exergue, Annona standing right, right hand on hip, offering cornucopia in left to Ceres seated left, who extends right hand to receive cornucopia and holding reed in left; altar between them. Alföldi, Kontorniat, 244.11 (this coin). Green patina, areas of earthen encrustation. VF.

From the Peter J. Merani Collection. Ex John F. Sullivan Collection (CNG Inventory 765857 [August 2006]); Garth R. Drewry Collection (Triton VIII, 11 January 2004), lot 1272; Frederick S. Knobloch Collection (Stack's 1-3 May, 1980), lot 1402; Seaby Coin and Medal Bulletin (May 1965), lot A467; A. Hess (28 November 1912), lot 598; Consul Eduard Friedrich Weber Collection (J. Hirsch XXIV, 10 May 1909), lot 2926; Robert Collection (Sambon 1898), lot 1285.


The final winners of all Triton XXIV lots will be determined during the live online sale that will be held on 19-20 January 2021. This lot is in Session One, which begins 19 January 2021 at 9 AM ET.

Winning bids are subject to a 20% buyer's fee for bids placed on this website and 22.50% for all others.

We recognize that our users may have various Internet Browsers and Operating Systems. We like our visitors to have the best possible experience when using our bidding platform. However, we do recognize that it is impossible to develop applications that work identically, efficiently and effectively on all web browsers. The CNG bidding platform supports Mozilla Firefox (version 60+) and Chrome (version 67+).