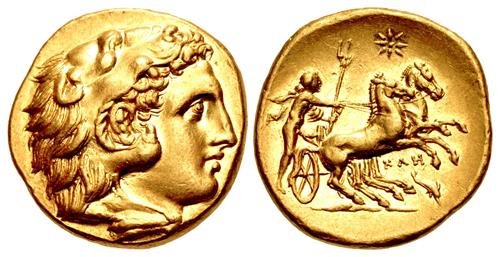 CALABRIA, Tarentum. Circa 281-276 BC. AV Stater (18.5mm, 8.53 g, 12h).
Triton XXIV
Lot: 336. Estimated: $ 50 000
Greek, Coin-in-Hand Video, Gold
Sold For $ 88 000. This amount does not include the buyer's fee.
CALABRIA, Tarentum. Circa 281-276 BC. AV Stater (18.5mm, 8.53 g, 12h). Youthful head of Herakles right, wearing lion skin / Taras(?), holding reins in right hand, trident in left, driving fast biga right; star above; below horses, KΛH above dolphin downward. Fischer-Bossert G20 (V17/R20); Vlasto, Or Type O 1 [a]; Vlasto 18 (same dies); HN Italy 955; Hirsch 85 (same dies); McClean 600 (same dies). Lustrous. Superb EF. Well centered and struck.

There is a divergence of opinion concerning the dating of this attractive gold issue of Tarentum, which displays a youthful head of Herakles resembling the Macedonian issues of Alexander III the Great and a reverse depicting a nude male youth holding a trident, probably Taras / Phalanthos, driving a biga. The lack of a civic ethnic and the control letters KΛH on the reverse led N. K. Rutter, in Historia Nummorum Italy, and Oliver Hoover in Handbook of Greek Coins Vol. I, to place their minting during the expedition of the Spartan commander Kleonymos, who crossed to Italy at Tarentum's invitation circa 302 BC, to pay his large mercenary army. Wolfgang Fischer-Bossert, citing the support of S. Garraffo and G.K. Jenkins, places the issue during the more famous Italian expedition of Pyrrhos of Epiros, circa 281-276 BC. The type's great rarity means there is little in the way of hoard evidence to support either side. However, their similarity to Pyrrhic bronze issues in Sicily and Pyrrhos's strong desire to emulate Alexander the Great argue for the latter dating, in which case the KΛH refers to a magistrate rather than to Kleonymos.

The final winners of all Triton XXIV lots will be determined during the live online sale that will be held on 19-20 January 2021. This lot is in Session Two, which begins 19 January 2021 at 2 PM ET.

Winning bids are subject to a 20% buyer's fee for bids placed on this website and 22.50% for all others.

We recognize that our users may have various Internet Browsers and Operating Systems. We like our visitors to have the best possible experience when using our bidding platform. However, we do recognize that it is impossible to develop applications that work identically, efficiently and effectively on all web browsers. The CNG bidding platform supports Mozilla Firefox (version 60+) and Chrome (version 67+).