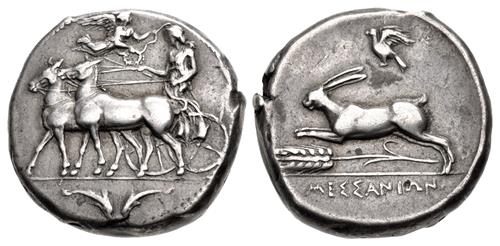 SICILY, Messana. 412-408 BC. AR Tetradrachm (25mm, 16.90 g, 12h).
Triton XXIV
Lot: 383. Estimated: $ 5 000
Greek, Coin-in-Hand Video, Silver
Sold For $ 11 000. This amount does not include the buyer's fee.
SICILY, Messana. 412-408 BC. AR Tetradrachm (25mm, 16.90 g, 12h). Charioteer, holding kentron in right hand and reins in both, driving slow biga of mules left; above, Nike flying right, crowning charioteer with wreath held in right hand and fillet in left; in exergue, two dolphins confronted / Hare springing right; above, dove flying left; below, grain stalk left; MEΣΣANIΩN in exergue. Caltabiano Series XVA, 622 (D223/R248); F. S. Benson, "Ancient Greek Coins. XV. Sicily, 5 (Zankle – Messana)" in AJN XXXIX.4 (April 1905), 164 (this coin); HGC 2, 801; SNG Lockett 831 = Pozzi (Boutin) 1094 (same dies); Gillet 474 (same dies); Hermitage Sale II 296 (same dies); Pozzi 492 (same dies); Rhousopoulos 382 (same dies). Old cabinet tone, trace deposits, light marks under tone. VF. Well centered.

From the Lampasas Collection. Ex Virgil Brand Collection [unnamed] (Hess-Leu 31, 6 December 1966), lot 118; Frank Sherman Benson Collection (Sotheby, Wilkinson & Hodge, 3 February 1909), lot 238; Franz von Wotoch Collection (Sambon & Canessa, 11 December 1901, lot 234.

Frank Sherman Benson was particularly fond of ancient Sicilian coins, publishing many of them from his own collection in a series of articles in the early 1900s AJN, which he subsequently combined and republished in a single volume. Regarding the present coin, he compared the reverse to an example published by Sir Arthur Evans in the 1896 NC, which was signed ANAN. Benson notes a faint pattern in the die behind the dove on this coin, which he believes equates to this same signature, though it is so faint to be inconclusive. Nonetheless, he points out that this coin was struck during the same period of the great signing artists on Sicily, with whose masterworks the present coin compares well.

The final winners of all Triton XXIV lots will be determined during the live online sale that will be held on 19-20 January 2021. This lot is in Session Two, which begins 19 January 2021 at 2 PM ET.

Winning bids are subject to a 20% buyer's fee for bids placed on this website and 22.50% for all others.

We recognize that our users may have various Internet Browsers and Operating Systems. We like our visitors to have the best possible experience when using our bidding platform. However, we do recognize that it is impossible to develop applications that work identically, efficiently and effectively on all web browsers. The CNG bidding platform supports Mozilla Firefox (version 60+) and Chrome (version 67+).