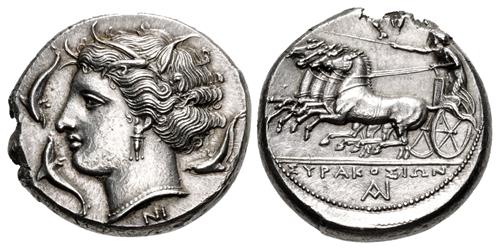 SICILY, Syracuse. Agathokles. 317-289 BC. AR Tetradrachm (26mm, 17.12 g, 3h). Struck circa 317-310 BC.
Triton XXIV
Lot: 395. Estimated: $ 10 000
Greek, Coin-in-Hand Video, Silver
Sold For $ 9 500. This amount does not include the buyer's fee.
SICILY, Syracuse. Agathokles. 317-289 BC. AR Tetradrachm (26mm, 17.12 g, 3h). Struck circa 317-310 BC. Head of Arethousa left, wearing wreath of grain ears, triple-pendant earring, and pearl necklace; three dolphins around, NI below neck / Charioteer, holding kentron in right hand, reins in left, driving fast quadriga left; counterclockwise triskeles above, ΣYPAKOΣIΩN and monogram in exergue. Ierardi 26 (O4/R11); BAR Issue 2; HGC 2, 1348; Dewing 943 (same dies). Light golden tones around the devices, slight die shift on obverse, slightly off center on reverse. Superb EF. Fine Classical style.

From the Apollo to Apollo Collection.

The late 5th century BC dekadrachms of Syracuse were so famous in their time, their designs were widely copied throughout the Greek world. Indeed, the Syracusan tyrant Agathokles, nearly a century later, struck tetradrachms that closely imitated the iconic dekadrachm of the engraver Euainetos. Here, the racing chariot formerly on the obverse has been moved to the reverse, but the rest of the design copies the work of Euainetos nearly exactly.

The final winners of all Triton XXIV lots will be determined during the live online sale that will be held on 19-20 January 2021. This lot is in Session Two, which begins 19 January 2021 at 2 PM ET.

Winning bids are subject to a 20% buyer's fee for bids placed on this website and 22.50% for all others.

We recognize that our users may have various Internet Browsers and Operating Systems. We like our visitors to have the best possible experience when using our bidding platform. However, we do recognize that it is impossible to develop applications that work identically, efficiently and effectively on all web browsers. The CNG bidding platform supports Mozilla Firefox (version 60+) and Chrome (version 67+).