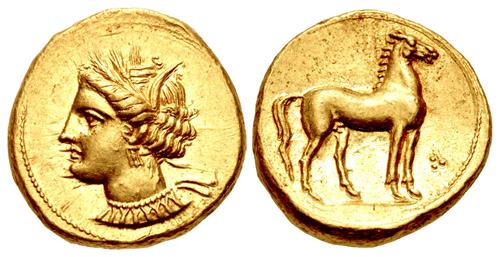 CARTHAGE. Circa 350-320 BC. AV Stater (18mm, 9.44 g, 5h). Carthage mint.
Triton XXIV
Lot: 404. Estimated: $ 15 000
Greek, Coin-in-Hand Video, Gold
Sold For $ 11 000. This amount does not include the buyer's fee.
CARTHAGE. Circa 350-320 BC. AV Stater (18mm, 9.44 g, 5h). Carthage mint. Head of Tanit left, wearing wreath of grain ears, triple-pendant earring, and necklace with eight pendants / Horse standing right on exergue line; three pellets to right of foreleg. Jenkins & Lewis Group IIIh; CNP 1.5h; MAA 4; McClean 9979; Weber 8489. Lustrous. Superb EF. Fine style.

By the third century BC, the Punic goddess Tanit and the horse had become the standard types of Carthaginian coinage and remained so for the balance of the city's existence. Tanit was the primary deity of Carthage. A celestial divinity with some fertility aspects, she was the North African equivalent of Astarte. She is always depicted on the coinage wearing a wreath of grain, which may have been borrowed from Demeter and Persephone as the Carthaginians assimilated the Sicilian culture into their own during the various Punic excursions to the island. The use of the horse on the reverse is usually considered part of the foundation myth of Carthage. According to Virgil's Aeneid, the Phoenician colonists who founded Carthage were told by Juno (or Tanit) to establish the new colony at the place where they discovered a horse's head in the ground. Another theory is that the obverse head is actually Demeter or Persephone, whose worship was introduced to Carthage in 396 BC to make amends for the destruction of the goddesses' temples outside Syracuse by the Carthaginian army.

The final winners of all Triton XXIV lots will be determined during the live online sale that will be held on 19-20 January 2021. This lot is in Session Two, which begins 19 January 2021 at 2 PM ET.

Winning bids are subject to a 20% buyer's fee for bids placed on this website and 22.50% for all others.

We recognize that our users may have various Internet Browsers and Operating Systems. We like our visitors to have the best possible experience when using our bidding platform. However, we do recognize that it is impossible to develop applications that work identically, efficiently and effectively on all web browsers. The CNG bidding platform supports Mozilla Firefox (version 60+) and Chrome (version 67+).