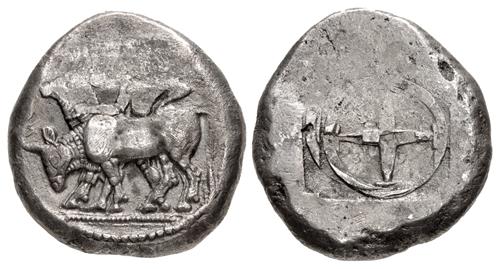 THRACO-MACEDONIAN TRIBES, Ichnai. Circa 500-480 BC. AR Tristater – "Oktadrachm" (28.5mm, 28.26 g). Reduced Aeginetan standard.
Triton XXIV
Lot: 435. Estimated: $ 3 000
Greek, Coin-in-Hand Video, Silver
Sold For $ 4 000. This amount does not include the buyer's fee.
THRACO-MACEDONIAN TRIBES, Ichnai. Circa 500-480 BC. AR Tristater – "Oktadrachm" (28.5mm, 28.26 g). Reduced Aeginetan standard. Herdsman, wearing kausia, guiding two bulls walking left upon dotted ground line; [I-X-NAI above] / Wheel with four spokes within shallow incuse square. Wartenberg, Thraco, Issue 1, dies O2/R2; Peykov A1700; HPM –; HGC 3, 298; Asyut 40 (same dies); Asyut 41 = Rosen 122 = Hunt II 8 (same dies); Boston MFA 589 = Warren 570. Toned, granular surfaces, area of flat strike, a few scratches under tone, double struck on reverse. VF. Very rare, Wartenberg only records 7 examples from issue 1 (and notes two others in trade), three of which are in museums (Alpha Bank, Berlin, and Boston).

From the Collection of a Northern California Gentleman, purchased from Frank Kovacs, October 1996.

Ichnai was a city in the region of Bottiaia in Macedon, on the right bank of the Axios river, that was mentioned by Herodotus (7.123.3), and is thought to have been a Paeonian settlement. Other than a few inscriptions remaining in the vicinity, there are no other surviving remains of the settlement. S. Psoma and A.G. Zannis, in a recent article on the Ichnai ("Ichnai et le monnayage des Ichnées" in Tekmeria 10 [2011]), argued that the coins attributed to the Ichnai were not struck in the city, but by the inhabitants who fled to another location after the region of Bottiaia was conquered by the Macedonians, circa 500 BC. They argue that the Ichnaiaens settled to the east, alongside a number of other peoples who likewise fled the Macedonians. Many of the Thraco-Macedonian Tribal issues are the products of these peoples. Wartenberg notes that the evidence of the coinage supports their theory, and goes further, fully reexamining the tribal coinage in light of more recent evidence. Consolidating the numismatic evidence, and placing it into its proper historical context, Wartenberg persuasively argues that the tribal coins were not related to the Persian activity, but to the growth of Athenian power in the region.

The final winners of all Triton XXIV lots will be determined during the live online sale that will be held on 19-20 January 2021. This lot is in Session Two, which begins 19 January 2021 at 2 PM ET.

Winning bids are subject to a 20% buyer's fee for bids placed on this website and 22.50% for all others.

We recognize that our users may have various Internet Browsers and Operating Systems. We like our visitors to have the best possible experience when using our bidding platform. However, we do recognize that it is impossible to develop applications that work identically, efficiently and effectively on all web browsers. The CNG bidding platform supports Mozilla Firefox (version 60+) and Chrome (version 67+).