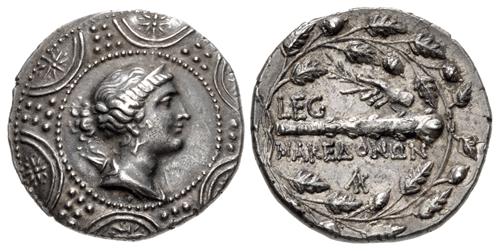 MACEDON (Roman Protectorate), Republican period. Roman embassy. Circa 148-147 BC. AR Tetradrachm (29mm, 16.91 g, 3h). Amphipolis or Thessalonika mint.
Triton XXIV
Lot: 493. Estimated: $ 3 000
Greek, Coin-in-Hand Video, Silver
Sold For $ 4 000. This amount does not include the buyer's fee.
MACEDON (Roman Protectorate), Republican period. Roman embassy. Circa 148-147 BC. AR Tetradrachm (29mm, 16.91 g, 3h). Amphipolis or Thessalonika mint. Diademed and draped bust of Artemis right, bow and quiver over shoulder, in boss of a Macedonian shield / Club; above, LEG and hand holding olive branch left; below, MAKEΔONΩN above monogram; all within oak wreath, thunderbolt to outer left. MacKay, Macedonian, Series 2, 15 (O3/R14); AMNG III/1, p. 63, 194; HGC 3, 1105; SNG Sarolglos 979; Berlin Duplicates (Reichmann XXX), 485 (same dies); Jameson 1017 (same obv. die). Attractive deep cabinet tone. Good VF. A pleasing example of this rare type.

From the Collection of a Northern California Gentleman, purchased from Freeman & Sear, 17 September 1999.

This type is traditionally thought to have been issued immediately following the suppression of the revolt of Philip VI Andriskos. As the Romans did not think the Macedonian people had supported Andriskos, they sent a peace embassy, instead of an army of occupation, after his defeat. The Latin legend LEG refers to 'legatio', an embassy, and the hand holding the olive branch an offer of peace.

A.M. Burnett published a hoard ("Aesillas: Two new hoards," CH VII) containing a small number of these tetradrachms along with various Athenian new style tetradrachms, Thasos tetradrachms, and Aesillas tetradrachms. Due to the light wear on the LEG MAKEΔONΩN tetradrachms, Burnett concluded that they were struck shortly before Aesillas' issues, a downdating of approximately fifty years. Some numismatists have adopted this proposal (see Crawford, CMRR, p. 197). It seems more likely, however, that any apparent anomaly in degree of wear can be explained by the possibility that the hoard was assembled over a period of time, a supposition also supported by the other coinage found in the hoard. For example, the Athenian issues span the years 159/8-137/6 BC, and a number of these are also as well preserved as the Macedonian coins. The evidence of this single find is thus inconclusive, and should not override MacKay's analysis without further confirmation.

The final winners of all Triton XXIV lots will be determined during the live online sale that will be held on 19-20 January 2021. This lot is in Session Two, which begins 19 January 2021 at 2 PM ET.

Winning bids are subject to a 20% buyer's fee for bids placed on this website and 22.50% for all others.

We recognize that our users may have various Internet Browsers and Operating Systems. We like our visitors to have the best possible experience when using our bidding platform. However, we do recognize that it is impossible to develop applications that work identically, efficiently and effectively on all web browsers. The CNG bidding platform supports Mozilla Firefox (version 60+) and Chrome (version 67+).