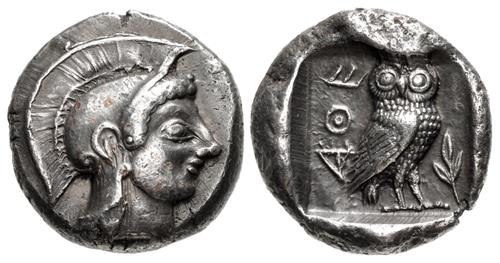 ATTICA, Athens. Circa 510-500/490 BC. AR Tetradrachm (24mm, 17.31 g, 8h).
Triton XXIV
Lot: 512. Estimated: $ 50 000
Greek, Silver
Sold For $ 70 000. This amount does not include the buyer's fee.
ATTICA, Athens. Circa 510-500/490 BC. AR Tetradrachm (24mm, 17.31 g, 8h). Head of Athena right, wearing earring and crested Attic helmet decorated with tiny spiral on the back of the bowl / Owl standing right, head facing; AΘE to right, olive sprig to right; all within incuse square. Seltman Group L, 328 (A214/P273) = Svoronos, Monnaies, pl. 6, 7 (same dies); HGC 4, 1589; Rhousopoulos 1945 var. (placement of ethnic and branch; same obv. die). Attractively toned, a little redeposited silver on obverse. EF. An exceptional Archaic Athens tetradrachm, perfectly centered on a broad flan, revealing full crest.

The grouping and arrangement of the issues in Seltman have undergone a number of transformations as our knowledge of the series evolved with the discovery of a number of hoards over the past few decades, primarily that of the Asyut Hoard. It is fairly certain now that Seltman Group H was the earliest of the famous Owl series, followed shortly thereafter by the coins of Group L. A salient characteristic of the tetradrachms of Group H is the numerous variations of placement of the ethnic and olive branch in the field around the reverse, exemplifying the experimentation that is so often characteristic of an early series of coinage. It seems that the engravers were given free reign to design the reverses as they saw fit. With Group L, the ethnic and branch assume their canonical placement in the field, which endured on all of the subsequent series, lasting into the early second century BC. The present coin is from a set of dies that is regarded as transitional, in that it retains the "experimental" aspect of the placement of these features from Group H, but is obverse die linked to these "standardized" issues of Group L. Thus, Seltman's placement of this die combination at the beginning of the group is well justified.

The final winners of all Triton XXIV lots will be determined during the live online sale that will be held on 19-20 January 2021. This lot is in Session Two, which begins 19 January 2021 at 2 PM ET.

Winning bids are subject to a 20% buyer's fee for bids placed on this website and 22.50% for all others.

We recognize that our users may have various Internet Browsers and Operating Systems. We like our visitors to have the best possible experience when using our bidding platform. However, we do recognize that it is impossible to develop applications that work identically, efficiently and effectively on all web browsers. The CNG bidding platform supports Mozilla Firefox (version 60+) and Chrome (version 67+).