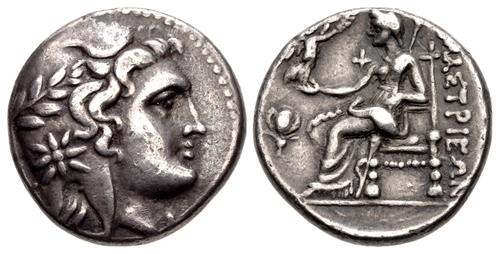 PAPHLAGONIA, Amastris. Circa 285-250 BC. AR Stater (20mm, 9.64 g, 12h).
Triton XXIV
Lot: 548. Estimated: $ 2 000
Greek, Coin-in-Hand Video, Silver
Sold For $ 1 600. This amount does not include the buyer's fee.
PAPHLAGONIA, Amastris. Circa 285-250 BC. AR Stater (20mm, 9.64 g, 12h). Head of Mên right, wearing Phrygian cap decorated with laurel branch and star / Aphrodite seated left, holding in extended right hand Nike, who crowns her with wreath held in both hands, and cradling lotus-tipped scepter in left arm; rose to left, AMAΣTPEIΩN to right. Callataÿ, Premier 37 (D16/R15); RG 5; HGC 7, 356; SNG BM Black Sea 1304 (same dies); Boston MFA 1361 (same dies); Sunrise 148 (this coin). Attractively toned. Good VF.

From the Weise Collection. Ex Sunrise Collection (Triton XVIII, 6 January 2015), lot 13; Halliwell Collection (Baldwin's 68, 28 September 2010), lot 3414.

There is speculation that the obverse of this coin actually depicts Amastris, a niece of Darios III of Persia, who became a pawn in the complex dynastic quarrels that followed the death of Alexander. She had been given as wife to Alexander's general Krateros, but was dismissed when Krateros arranged a marriage for himself with the daughter of Antipater. Amastris then married Dionysos, tyrant of Herakleia, by whom she had three children before his death in 306 BC. In 302 BC, she married Lysimachos of Thrace, who soon acquired a more profitable alliance by wedding Arsinoë, the daughter of Ptolemy I Soter of Egypt. Amastris then retired to the territory of Herakleia, where she founded a new city named after herself. She was not destined to find peace, however; in 288 BC her two covetous sons had her drowned and seized her city for themselves.

The final winners of all Triton XXIV lots will be determined during the live online sale that will be held on 19-20 January 2021. This lot is in Session Two, which begins 19 January 2021 at 2 PM ET.

Winning bids are subject to a 20% buyer's fee for bids placed on this website and 22.50% for all others.

We recognize that our users may have various Internet Browsers and Operating Systems. We like our visitors to have the best possible experience when using our bidding platform. However, we do recognize that it is impossible to develop applications that work identically, efficiently and effectively on all web browsers. The CNG bidding platform supports Mozilla Firefox (version 60+) and Chrome (version 67+).