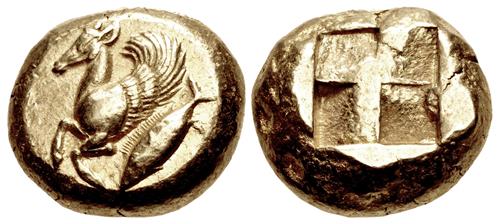 MYSIA, Kyzikos. Circa 550-450 BC. EL Stater (18.5mm, 16.03 g).
Triton XXIV
Lot: 578. Estimated: $ 3 000
Greek, Coin-in-Hand Video, Electrum
Sold For $ 10 000. This amount does not include the buyer's fee.
MYSIA, Kyzikos. Circa 550-450 BC. EL Stater (18.5mm, 16.03 g). Forepart of winged stag left; to right, tunny diagonally downward left / Quadripartite incuse square. Von Fritze I 102; cf. Greenwell 128 corr. (obv. type; unlisted denomination); Boston MFA 1434 = Warren 1549; SNG BN –; BMC –; Gulbenkian –; Jameson 2181. Good VF. Well centered.

From the Siren Collection.

A comment in a recent catalog asserted that the traditional identification of the obverse type as a winged stag was incorrect, that it is actually a winged doe, as there are no antlers depicted. However, a close examination of published examples do show a small spike emanating from the creature's head, well forward of the facing ear. This spike is consistently depicted as a small, thin, and straight protrusion that cannot be mistaken for the far side ear, which would be more contoured to mirror the facing ear, and set further back. The posture of the creature also suggests that it is to be viewed in perfect profile, with only the facing side ear and wing visible. Clearly, the spike is a new growth antler, thus the creature is correctly identified as a stag. What remains unknown is whether this type is meant to depict a youthful red deer stag growing his first antlers, or an adult depicted early in its yearly growth of new antlers?

Interestingly, in his corpus on the electrum of Kyzikos, Prof. Greenwell incorrectly described the obverse type of this issue, which was only known to him as hektai and hemihektai, as a winged horse. However, upon his subsequent acquisition and publishing of the stater of this issue, he corrected his earlier mistake, noting the "short horn" in front of the ear (see Greenwell, Some, p. 254, 3).

The final winners of all Triton XXIV lots will be determined during the live online sale that will be held on 19-20 January 2021. This lot is in Session Two, which begins 19 January 2021 at 2 PM ET.

Winning bids are subject to a 20% buyer's fee for bids placed on this website and 22.50% for all others.

We recognize that our users may have various Internet Browsers and Operating Systems. We like our visitors to have the best possible experience when using our bidding platform. However, we do recognize that it is impossible to develop applications that work identically, efficiently and effectively on all web browsers. The CNG bidding platform supports Mozilla Firefox (version 60+) and Chrome (version 67+).