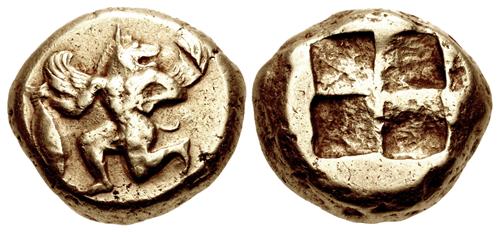 MYSIA, Kyzikos. Circa 550-450 BC. EL Stater (18.5mm, 16.05 g).
Triton XXIV
Lot: 601. Estimated: $ 20 000
Greek, Coin-in-Hand Video, Electrum
Sold For $ 17 000. This amount does not include the buyer's fee.
MYSIA, Kyzikos. Circa 550-450 BC. EL Stater (18.5mm, 16.05 g). Winged male mythological creature running-kneeling left, head right, holding tunny by its tail in left hand / Quadripartite incuse square. Von Fritze I 123; Greenwell 57; Boston MFA 1457 = Warren 1471; SNG BN 271; BMC –; Gulbenkian 617; Jameson 2560; SNG von Aulock 1198 = Kraay & Hirmer 704 = L. Mildenberg, "Über das Münzwesen im Reich der Achämeniden" in AMI 26 (1993), pl. VII, 62. Struck from worn die, shallow cut on obverse. Good VF. Well centered. Very rare.

From the Jonathan P. Rosen Collection. Ex Lanz 158 (5 June 2014), lot 219 (hammer €34,000).

While the identification of this creature, certainly of local significance, is unknown today, it has traditionally been referred to as "Phobos" or "Daimon." In his catalog of the Gulbenkian collection, Jenkins sees an Egyptian or near-Eastern influence, while Bivar, in his article on Mithra ("Mithra and Mesopotamia," Mithraic Studies [Manchester, 1975], pp. 275-89), suggests that the creature corresponds to the Mithraic Areimanios (Ahriman). One also may see an assimilation of the ubiquitous Persian lion-headed griffin, adapting the head, wings, and tail to a human body. Although some references note the head as being that of a wolf, other examples clearly show a mane that is directly influenced by the lion heads on the common early Lydian electrum, supporting Bivar's (and others') contention that it is a lion head. At the same time, the ear is not fully visible on most examples, but on some, such as the present piece, it clearly is that of a griffin (compare to its depiction on the coins of Teos and Abdera). The wings and posture of the creature are mythological archetypes, commonly found on displays of various deities and creatures on pottery and coins. An excellent example of an archaic representation of a local deity of Asia Minor.

The final winners of all Triton XXIV lots will be determined during the live online sale that will be held on 19-20 January 2021. This lot is in Session Two, which begins 19 January 2021 at 2 PM ET.

Winning bids are subject to a 20% buyer's fee for bids placed on this website and 22.50% for all others.

We recognize that our users may have various Internet Browsers and Operating Systems. We like our visitors to have the best possible experience when using our bidding platform. However, we do recognize that it is impossible to develop applications that work identically, efficiently and effectively on all web browsers. The CNG bidding platform supports Mozilla Firefox (version 60+) and Chrome (version 67+).