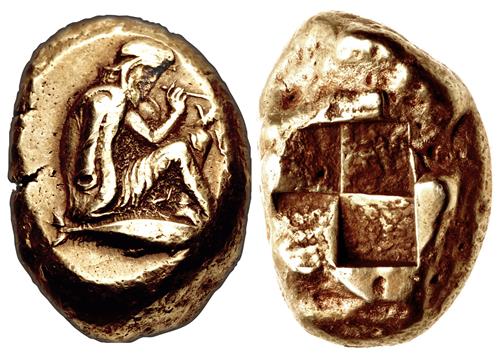 MYSIA, Kyzikos. Circa 450-330 BC. EL Stater (15mm, 15.96 g).
Triton XXIV
Lot: 630. Estimated: $ 20 000
Greek, Coin-in-Hand Video, Electrum
Sold For $ 26 000. This amount does not include the buyer's fee.
MYSIA, Kyzikos. Circa 450-330 BC. EL Stater (15mm, 15.96 g). Bearded Persian archer, wearing kidaris, chiton, anaxyrides, and surcoat, testing arrow held in right hand, left hand holding bow, seated right on tunny right / Quadripartite incuse square. Von Fritze I 166 (illustrating the Hermitage piece); Greenwell 95 (same); FSD SHM 1223 = Hermitage (Exhibition) 128 = Hermitage Sale II 1166 = Traité II 2639, pl. CLXXIV, 14; Gillet 1065 = Kunstfreund 209 (this coin); Prinkipo 32 (Istanbul). Toned, minor die rust. Good VF. Extremely rare, one of four known, two of which are in museums (St. Petersburg and Istanbul). This is the only example in CoinArchives.

From the Jonathan P. Rosen Collection. Ex Morton & Eden 86 (24 May 2017), lot 24; Dix Noonan Webb A11 (27 September 2011), lot 2008; Leu 57 (25 May 1993), lot 98; Charles Gillet [as Kunstfruend] Collection (Leu & Münzen und Medaillen AG, 28 May 1974), lot 209; Ars Classica XVI (3 July 1933), lot 1351.

This impressive stater offers a classic depiction of a Persian archer, which is perhaps most commonly known in Greek coinage from the tetradrachms of Tarkumuwa (Datames) struck at Tarsos in the mid-4th century (cf. SNG BN 282). Some numismatists have speculated that the person represented here is Pharnabazos, whose portrait is thought to feature on a roughly contemporary series of tetradrachms at Kyzikos (cf. Kraay & Hirmer 718). The representation of the archer here became the canonical form used on the ubiquitous drachms of Parthia, issued from the 3rd century BC to the 3rd century AD, emphasizing the universal appeal of the type.

The final winners of all Triton XXIV lots will be determined during the live online sale that will be held on 19-20 January 2021. This lot is in Session Two, which begins 19 January 2021 at 2 PM ET.

Winning bids are subject to a 20% buyer's fee for bids placed on this website and 22.50% for all others.

We recognize that our users may have various Internet Browsers and Operating Systems. We like our visitors to have the best possible experience when using our bidding platform. However, we do recognize that it is impossible to develop applications that work identically, efficiently and effectively on all web browsers. The CNG bidding platform supports Mozilla Firefox (version 60+) and Chrome (version 67+).