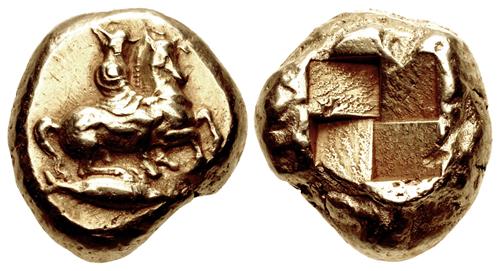 MYSIA, Kyzikos. Circa 450-330 BC. EL Stater (18mm, 16.04 g).
Triton XXIV
Lot: 642. Estimated: $ 10 000
Greek, Coin-in-Hand Video, Electrum
Sold For $ 10 000. This amount does not include the buyer's fee.
MYSIA, Kyzikos. Circa 450-330 BC. EL Stater (18mm, 16.04 g). Thessalian cavalryman, wearing kausia, on horse rearing right; below, tunny right / Quadripartite incuse square. Von Fritze I 168; Greenwell –; Boston MFA –; SNG BN 315; BMC –; FSD –; Gillet 1061; Gulbenkian –; Jameson –. Lightly toned. Good VF. Well centered. Very rare, one of only four in CoinArchives.

From the Jonathan P. Rosen Collection. Ex Lanz 159 (8 December 2014), lot 216 (hammer €16,000); Numismatica Ars Classica 78 (26 May 2014), lot 289.

This very rare type has been hypothesized to depict the mythological ancient Thessalian founders of Kyzikos. The horseman appears to be wearing the petasos and chlamys, commonly worn by Thessalian cavalrymen during antiquity. There is also conjecture that the issue depicts Phillip II of Macedon. Phillip had been declared the head of the Thessalian League and before his death had begun an invasion of Asia Minor ostensibly to free the Greek cities there from Persian rule. Many Greek cities in Asia Minor revolted, this issue may coincide with that revolt and depict Kyzikene support for Phillip's campaign.

The final winners of all Triton XXIV lots will be determined during the live online sale that will be held on 19-20 January 2021. This lot is in Session Two, which begins 19 January 2021 at 2 PM ET.

Winning bids are subject to a 20% buyer's fee for bids placed on this website and 22.50% for all others.

We recognize that our users may have various Internet Browsers and Operating Systems. We like our visitors to have the best possible experience when using our bidding platform. However, we do recognize that it is impossible to develop applications that work identically, efficiently and effectively on all web browsers. The CNG bidding platform supports Mozilla Firefox (version 60+) and Chrome (version 67+).