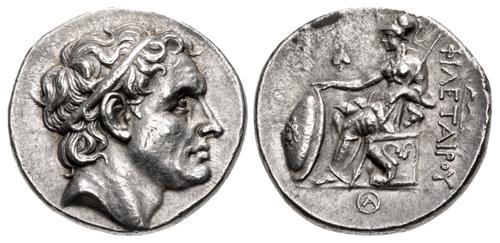 KINGS of PERGAMON. Philetairos. 282-263 BC. AR Tetradrachm (28.5mm, 17.10 g, 11h). Pergamon mint. Struck circa 269/8-263 BC.
Triton XXIV
Lot: 650. Estimated: $ 50 000
Greek, Coin-in-Hand Video, Silver
Sold For $ 80 000. This amount does not include the buyer's fee.
KINGS of PERGAMON. Philetairos. 282-263 BC. AR Tetradrachm (28.5mm, 17.10 g, 11h). Pergamon mint. Struck circa 269/8-263 BC. Diademed head of Seleukos I right / ΦIΛETAIPOY, Athena, wearing crested Corinthian helmet and long chiton, enthroned left, extending right hand to hold shield decorated with gorgoneion to left, left arm cradling long scepter and resting on throne back in the form of a small sphinx seated right; ivy leaf above arm to left, bow to outer right, monogram in exergue. Ingvaldsen, Philetaerus 5b (dies III/6) = Newell, Pergamene, 12a (dies XIV/27) = Kraay & Hirmer 736 (this coin); Imhoof-Blumer, Münzen 4 = SMB obv. no. 18203100 (same dies); CSE 635; SC 309.4; SNG Salting 31; BMC 27; Boston MFA 1608 = Warren 1024; Hunterian 4. Lightly toned. EF. Well centered. Powerful Hlelenistic portrait.

Ex Leu 48 (10 May 1989), lot 221; Leu 13 (29 April 1975), lot 201; G. Hirsch 37 (10 December 1963), lot 238; J. Hirsch XII (24 November 1904), lot 232.

When Lysimachos established the mint of Pergamon, he entrusted its treasury to the eunuch Philetairos. Philetairos changed his allegiance to Seleukos I, probably shortly before the Battle of Korupedion in 281 BC, where Seleukos defeated Lysimachos. Although Seleukos was assassinated the following year, Philetairos struck a series of Alexander-type issues in the name of Seleukos. Philetairos continued to acknowledge Seleukid primacy for some time, but soon struck a coinage in his own name. This coinage featured Athena Nikephoros on the reverse, similar to the reverses of Lysimachos. Perhaps because this move might have been viewed as a threat by his Seleukid overlord, the obverse of the first issues of these coins featured the portrait of Seleukos I. Houghton & Lorber (SC), citing Le Rider and Newell, assign this coinage to the aftermath of Antiochos I's victory over the Galatians, circa 269/8 BC. Near the end of Philetairos' reign, in the mid-late 260s, the portrait of Seleukos was replaced with the portrait of the Pergamene king, noting a final break from Seleukid authority. Similar to what was done in Ptolemaic Egypt, all of the subsequent kings of Pergamon continued to use these types on the coinage, and even kept the name of Philetairos. Distinguishing the issues between the various rulers has been difficult for numismatists. Westermark's die study of the coinage, however, provided the key necessary for understanding the series, although more recent hoard evidence has refined Westermark's assignment of the issues.

The final winners of all Triton XXIV lots will be determined during the live online sale that will be held on 19-20 January 2021. This lot is in Session Two, which begins 19 January 2021 at 2 PM ET.

Winning bids are subject to a 20% buyer's fee for bids placed on this website and 22.50% for all others.

We recognize that our users may have various Internet Browsers and Operating Systems. We like our visitors to have the best possible experience when using our bidding platform. However, we do recognize that it is impossible to develop applications that work identically, efficiently and effectively on all web browsers. The CNG bidding platform supports Mozilla Firefox (version 60+) and Chrome (version 67+).