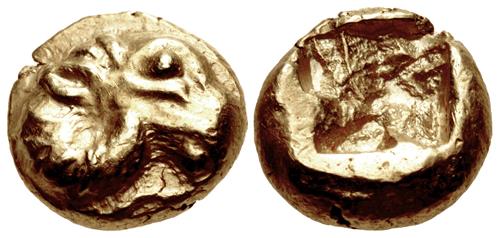 TROAS, Kebren. Late 6th-early 5th centuries BC. EL Hekte (11mm, 2.72 g). Phokaic standard.
Triton XXIV
Lot: 652. Estimated: $ 1 500
Greek, Electrum
Sold For $ 1 300. This amount does not include the buyer's fee.
TROAS, Kebren. Late 6th-early 5th centuries BC. EL Hekte (11mm, 2.72 g). Phokaic standard. Head of ram right / Incuse square. SNG von Aulock 7775 var. (head left); Triton XXI, lot 461 (same die and punch); CNG 102, lot 400 (same die and punch). A few light scratches. Near EF. Extremely rare, apparently the third known with head right.

Although there are a few electrum Phokaic standard hektai known with a ram's head (particularly from Mytilene and Phokaia, as well as an uncertain mint in Ionia [see Weidauer 50 and Lot 484, below]), all are distinctly different in style from this coin. At the same time, the style of the ram's head here is a perfect match to the type found on the early silver issues at Kebren (cf. SNG Ashmolean 1076–7). See SNG Kayhan 1565 and CNG 90, lot 577 for myshemihektes of the same style and standard, but with head left.

The final winners of all Triton XXIV lots will be determined during the live online sale that will be held on 19-20 January 2021. This lot is in Session Two, which begins 19 January 2021 at 2 PM ET.

Winning bids are subject to a 20% buyer's fee for bids placed on this website and 22.50% for all others.

We recognize that our users may have various Internet Browsers and Operating Systems. We like our visitors to have the best possible experience when using our bidding platform. However, we do recognize that it is impossible to develop applications that work identically, efficiently and effectively on all web browsers. The CNG bidding platform supports Mozilla Firefox (version 60+) and Chrome (version 67+).