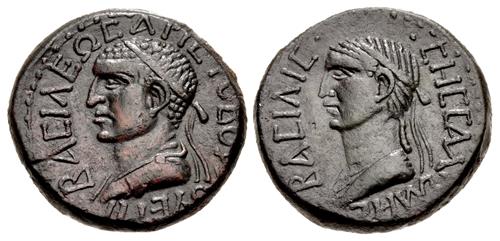 KINGS of ARMENIA MINOR. Aristoboulos, with Salome. AD 54-92. Æ (20mm, 6.07 g, 11h). Dated RY 13 (AD 66/7).
Triton XXIV
Lot: 741. Estimated: $ 20 000
Greek, Bronze, Coin-in-Hand Video
Sold For $ 32 000. This amount does not include the buyer's fee.
KINGS of ARMENIA MINOR. Aristoboulos, with Salome. AD 54-92. Æ (20mm, 6.07 g, 11h). Dated RY 13 (AD 66/7). BACIΛEΩC APICTOBOVΛOV ET IΓ, diademed and draped bust of Aristobulus left / BACIΛIC-CHC CAΛOMHC, diademed and draped bust of Salome left . Kovacs 300; Meshorer 365 corr. (date); Hendin 1257a; RPC I 3840 corr. (same); Triton XXIII, lot 456 (same obv. die [hammer $47,500]). Deep green-brown patina, with patches of red. EF. A superb example. Among the finest known.

Salome is described in the Gospels (Matthew 14 and Mark 6) only as the daughter of Herodias, who asked Herod Antipas for the head of John the Baptist in return for his daughter's risqué dance for the king. Salome's name is supplied by Josephus in Antiquities 18.5, where he also informs us that she grew up to marry her great-uncle Philip the Tetrarch and, after Philip's death, her cousin Aristoboulos, who is featured on the obverse of this coin and with whom Salome had three sons. Aristoboulos was the son of Herod V of Chalkis and great grandson of Herod I, and was appointed king of Armenia Minor in the first year of Nero's reign.

The present issue was struck in 66/7 CE (year 13 of Aristoboulos' reign), the first year of the Jewish war and around 40 years since the execution of John the Baptist, which has been tentatively dated to some time between 25 and 29 CE. Hendin (5th ed., p. 275) suggests that Aristoboulos struck this issue for propagandistic and political purposes, in the first year of the war, as a show of loyalty to Rome and his patron Nero.

When RPC was published, citing three known examples of this type, the date was off the flan on two pieces and the one example with partial date had been tentatively read as date Α or Η (RPC p. 570). Frank Kovacs subsequently discovered an example with a clear date 13 (Hendin p. 275, pl. 24, same obverse die as the present coin), and Kovacs' opinion was that other reported dates were most likely mis-readings of that date. The publication of additional specimens has since confirmed Kovacs' opinion, and it is now clear that all coins of this type are dated year 13.

The final winners of all Triton XXIV lots will be determined during the live online sale that will be held on 19-20 January 2021. This lot is in Session Three, which begins 20 January 2021 at 9 AM ET.

Winning bids are subject to a 20% buyer's fee for bids placed on this website and 22.50% for all others.

We recognize that our users may have various Internet Browsers and Operating Systems. We like our visitors to have the best possible experience when using our bidding platform. However, we do recognize that it is impossible to develop applications that work identically, efficiently and effectively on all web browsers. The CNG bidding platform supports Mozilla Firefox (version 60+) and Chrome (version 67+).