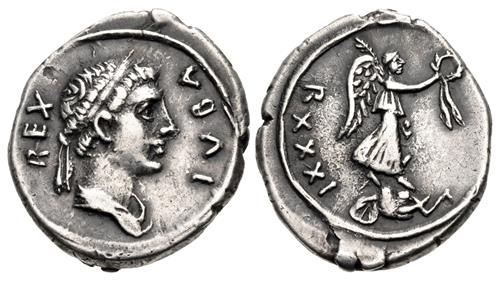 KINGS of MAURETANIA. Juba II. 25 BC-AD 24. AR Denarius (17mm, 3.14 g, 11h). Caesarea mint. Dated RY 31 (AD 6/7).
Triton XXIV
Lot: 816. Estimated: $ 1 500
Greek, Coin-in-Hand Video, Silver
Sold For $ 2 250. This amount does not include the buyer's fee.
KINGS of MAURETANIA. Juba II. 25 BC-AD 24. AR Denarius (17mm, 3.14 g, 11h). Caesarea mint. Dated RY 31 (AD 6/7). REX IVBA, diademed and draped bust right / Nike, holding wreath in extended right hand and cradling palm frond in left arm, standing right on head of elephant right; RXXXI (date) to left. Spoerri-Butcher Group 12.a, dies H4/R2; MAA 128; Mazard 196; SNG Copenhagen –. Toned, minor die wear on obverse. Good VF. Extremely rare, only five examples noted by Spoerri-Butcher.

From the TAB Collection. Ex Roma XVIII (29 September 2019), lot 504 (hammer £1800). Reportedly ex 1907 Banasa / El Ksar Hoard (IGCH 2307).

Juba II was born about 50 BC, the son of King Juba of Numidia, who lost his kingdom and his life following Caesar's victory over the Pompeians at Thapsus in 46 BC. The child was brought to Rome to adorn the dictator's triumph and then remained in the capital, where he received his education and was later granted Roman citizenship. During this time, he became a close friend of Octavian, thirteen years his senior. In 25 BC, Octavian, now Rome's first emperor under the name of Augustus, granted his friend Juba the North African Kingdom of Mauretania, which had been annexed by the Romans following the death of Bocchus III in 33. About five years later, Juba II married the 20-year-old Kleopatra Selene, daughter of Mark Antony and Queen Kleopatra VII of Egypt, who had been brought up by the emperor's sister, Octavia, following her parents' suicide in Alexandria in 30 BC. Their rule over Mauretania was benevolent, and quite prosperous, though there were constant border security problems. Juba survived to an advanced age and was eventually succeeded by Ptolemy, his son by Kleopatra Selene, in AD 24.

The final winners of all Triton XXIV lots will be determined during the live online sale that will be held on 19-20 January 2021. This lot is in Session Three, which begins 20 January 2021 at 9 AM ET.

Winning bids are subject to a 20% buyer's fee for bids placed on this website and 22.50% for all others.

We recognize that our users may have various Internet Browsers and Operating Systems. We like our visitors to have the best possible experience when using our bidding platform. However, we do recognize that it is impossible to develop applications that work identically, efficiently and effectively on all web browsers. The CNG bidding platform supports Mozilla Firefox (version 60+) and Chrome (version 67+).