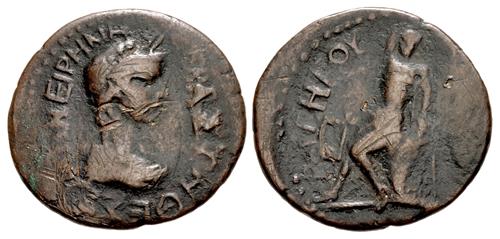 THESSALY, Koinon of Thessaly. temp. Nero. AD 54-68. Æ Triassarion (28mm, 10.47 g, 1h). Laouchos, strategos.
Triton XXIV
Lot: 892. Estimated: $ 200
Roman Provincial, Bronze, Coin-in-Hand Video
Sold For $ 600. This amount does not include the buyer's fee.
THESSALY, Koinon of Thessaly. temp. Nero. AD 54-68. Æ Triassarion (28mm, 10.47 g, 1h). Laouchos, strategos. EIPHNH [Σ]EBAΣTH ΘEΣΣ[AΛΩ]N, draped bust of Eirene right, wearing wreath of grain ears and olive branch / [ΛAOVXOV ΣT]-PATHΓOV, Apollo Delphinios, raising right arm overhead, holding bow and arrow in left hand, seated left, torso facing, on basis inscribed [A]TЄI/MH/TOC/ЄΠOI in four lines. BCD Thessaly II 942.2 (this coin); Burrer Em. 2 (of Nero), Series 4, Grp. 1, 79.1 (A28/R44) = RPC I 1450 corr. (this coin, illustrated in both references). Brown surfaces, numerous scratches. Fine. Extremely rare, one of two known to BCD.

Ex BCD Collection (Triton XV, 3 January 2012), lot 942.2; Thomas Ollive Mabbott Collection (Part I, H. Schulman, 6 June 1969), lot 750.

Struck from the same reverse die as the previous lot, but with the added engraving of a kithara in the left field. Although RPC Supp. lists the correction to the reading of the legend on the basis, both Burrer and RPC incorrectly mark the unreadable part on this coin (both simply repeated the exact reading of the legend from Burrer 64.1, without modifying it).

The final winners of all Triton XXIV lots will be determined during the live online sale that will be held on 19-20 January 2021. This lot is in Session Three, which begins 20 January 2021 at 9 AM ET.

Winning bids are subject to a 20% buyer's fee for bids placed on this website and 22.50% for all others.

We recognize that our users may have various Internet Browsers and Operating Systems. We like our visitors to have the best possible experience when using our bidding platform. However, we do recognize that it is impossible to develop applications that work identically, efficiently and effectively on all web browsers. The CNG bidding platform supports Mozilla Firefox (version 60+) and Chrome (version 67+).