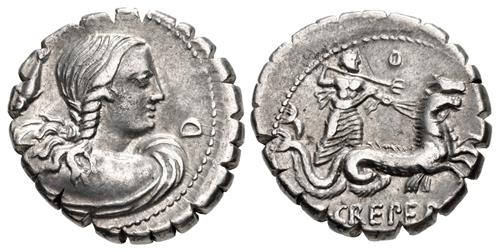 Q. Creperius M.f. Rocus. 69 BC. AR Serrate Denarius (18mm, 4.93 g, 9h). Rome mint.
Triton XXIV
Lot: 945. Estimated: $ 750
Roman Republican, Coin-in-Hand Video, Silver
Sold For $ 1 500. This amount does not include the buyer's fee.
Q. Creperius M.f. Rocus. 69 BC. AR Serrate Denarius (18mm, 4.93 g, 9h). Rome mint. Draped bust of Amphitrite right, seen from behind; seal(?) downward to left, D upward to right / Neptune, holding reins and brandishing trident, driving sea-chariot drawn by two hippocamps right; D above, [Q •] CREPER[EI/ROCVS]in two lines below. Crawford 399/1a; Sydenham 796; Crepereia 1; BMCRR Rome 3338; RBW 1440. Toned, a couple light scratches, struck slightly off center. VF.

Although all the major references refer to the lovely goddess depicted here as Amphitrite, Greek goddess of the Sea and consort of Poseidon, she should perhaps more properly be identified as her Roman counterpart, Salacia, wife of Neptune.

The final winners of all Triton XXIV lots will be determined during the live online sale that will be held on 19-20 January 2021. This lot is in Session Three, which begins 20 January 2021 at 9 AM ET.

Winning bids are subject to a 20% buyer's fee for bids placed on this website and 22.50% for all others.

We recognize that our users may have various Internet Browsers and Operating Systems. We like our visitors to have the best possible experience when using our bidding platform. However, we do recognize that it is impossible to develop applications that work identically, efficiently and effectively on all web browsers. The CNG bidding platform supports Mozilla Firefox (version 60+) and Chrome (version 67+).