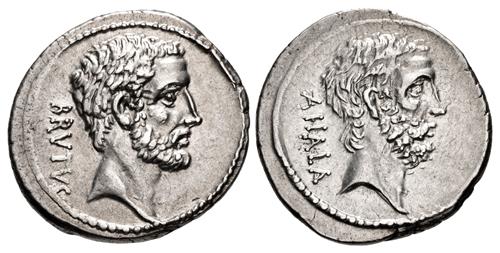 Q. Servilius Caepio (M. Junius) Brutus. 54 BC. AR Denarius (19.5mm, 3.72 g, 6h). Rome mint.
Triton XXIV
Lot: 957. Estimated: $ 1 000
Roman Republican, Coin-in-Hand Video, Silver
Sold For $ 1 800. This amount does not include the buyer's fee.
Q. Servilius Caepio (M. Junius) Brutus. 54 BC. AR Denarius (19.5mm, 3.72 g, 6h). Rome mint. Bare head of L. Junius Brutus right; BRVTVS downward to left / Bare head of C. Servilius Ahala right; AHALA downward to left. Crawford 433/2; Sydenham 907; Junia 30; BMCRR Rome 3864-7; RBW 1543. A hint of toning. EF.

From the JFL Collection. Ex Triton IX (10 January 2006), lot 1308.

This early coin of Marcus Junius Brutus, struck during his term as moneyer in 54 BC, refers to his illustrious ancestry, which included L. Junius Brutus, one of the legendary first consuls of the nascent Roman Republic, and C. Servilius Ahala, who slew the prospective tyrant Spurius Maelius. Celebrating his connection to the tyrannicide Ahala proved eerily prophetic 10 years later, when, because of his name and reputation for integrity, Brutus was recruited by conspirators against Julius Caesar and became the figurehead leader of the assassins.

The final winners of all Triton XXIV lots will be determined during the live online sale that will be held on 19-20 January 2021. This lot is in Session Three, which begins 20 January 2021 at 9 AM ET.

Winning bids are subject to a 20% buyer's fee for bids placed on this website and 22.50% for all others.

We recognize that our users may have various Internet Browsers and Operating Systems. We like our visitors to have the best possible experience when using our bidding platform. However, we do recognize that it is impossible to develop applications that work identically, efficiently and effectively on all web browsers. The CNG bidding platform supports Mozilla Firefox (version 60+) and Chrome (version 67+).