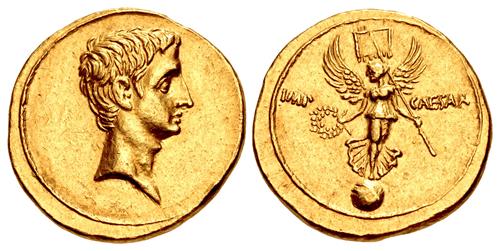 The Triumvirs. Octavian. Autumn 30-summer 29 BC. AV Aureus (20.5mm, 8.00 g, 6h). Italian (Rome?) mint.
Triton XXIV
Lot: 984. Estimated: $ 50 000
Roman Republican, Coin-in-Hand Video, Gold
Sold For $ 82 000. This amount does not include the buyer's fee.
The Triumvirs. Octavian. Autumn 30-summer 29 BC. AV Aureus (20.5mm, 8.00 g, 6h). Italian (Rome?) mint. Bare head right / Victory standing facing, head left, on globe, with wings spread, holding wreath with right hand and vexillum with left over left shoulder; IMP CAESAR across field. CRI 417; RIC I 268; Bahrfeldt 109; Calicó 205 = Biaggi 104 (same dies); BMCRE 622-3 = BMCRR Rome 4356-7; BN 85-6. Lustrous, light hairlines. Choice EF. Rare.

From the collection of Professor David R. Beatty, C.M., O.B.E. Ex George W. La Borde Collection (Part I, Numismatica Ars Classica 91, 23 May 2016), lot 4 (realized 75,000 CHF); Götz Grabert Collection ("Collection of a European Scholar lately Deceased," LHS 97, 10 May 2006), lot 2; Kastner 4 (27 November 1973), lot 215; ESR (Eric von Schulthess-Rechberg) Collection (Hess-Leu [17], 23 March 1961), lot 37.

The statue of Victory depicted on the reverse of this rare aureus stood atop the Curia Julia, the Roman Senate House.

The final winners of all Triton XXIV lots will be determined during the live online sale that will be held on 19-20 January 2021. This lot is in Session Three, which begins 20 January 2021 at 9 AM ET.

Winning bids are subject to a 20% buyer's fee for bids placed on this website and 22.50% for all others.

We recognize that our users may have various Internet Browsers and Operating Systems. We like our visitors to have the best possible experience when using our bidding platform. However, we do recognize that it is impossible to develop applications that work identically, efficiently and effectively on all web browsers. The CNG bidding platform supports Mozilla Firefox (version 60+) and Chrome (version 67+).