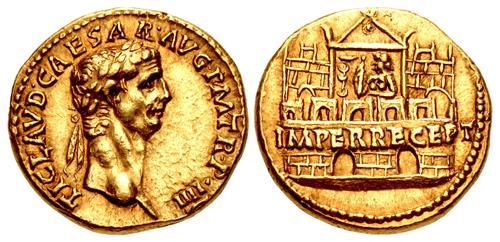 Claudius. AD 41-54. AV Aureus (18.5mm, 7.83 g, 5h). Lugdunum (Lyon) mint. Struck AD 44-45.
Triton XXIV
Lot: 1045. Estimated: $ 30 000
Roman Imperial, Coin-in-Hand Video, Gold
Sold For $ 48 000. This amount does not include the buyer's fee.
Claudius. AD 41-54. AV Aureus (18.5mm, 7.83 g, 5h). Lugdunum (Lyon) mint. Struck AD 44-45. TI CLAVD • CAESAR • AVG • P • M • TR • P • IIII •, laureate head right / IMPER RECEPT across upper section of wall, Claudius seated left, holding scepter; to left, signum; all within distyle building with crescent in pediment and flanked by crenelated walls with arched entries; all set on crenelated wall with two arched entries. RIC I 25; von Kaenel Type 21, 376 (V306/R315 – this coin); Lyon 40/19a (D179/R193 – this coin); Calicó 361a; BMCRE 23; BN 43-4; Biaggi 206; Mazzini 43; CNR XIV, 90 (this coin). Reddish tone. EF.

From the collection of Professor David R. Beatty, C.M., O.B.E. Ex collection of a director (Triton XX, 10 January 2017), lot 661 (hammer $40,000); Münzen und Medaillen AG 44 (15 June 1971), lot 35.

Upon Caligula's assassination in January, AD 41, Claudius was the sole surviving Julio-Claudian male. When members of the Praetorian Guard found him cowering behind a curtain in the palace, they immediately acclaimed him as Emperor and brought him to the Castra Praetoria, their fortified camp on the outskirts of Rome. Claudius astutely awarded the Praetorians a substantial bonus, and, with 10,000 heavily armed soldiers backing him, he easily forced the Senate to accept him as the next princeps. On this aureus, Claudius clearly acknowledges his debt to the Praetorians, depicting the walled Castra the legend IMPER RECEPT –- "The Emperor Received."

The final winners of all Triton XXIV lots will be determined during the live online sale that will be held on 19-20 January 2021. This lot is in Session Three, which begins 20 January 2021 at 9 AM ET.

Winning bids are subject to a 20% buyer's fee for bids placed on this website and 22.50% for all others.

We recognize that our users may have various Internet Browsers and Operating Systems. We like our visitors to have the best possible experience when using our bidding platform. However, we do recognize that it is impossible to develop applications that work identically, efficiently and effectively on all web browsers. The CNG bidding platform supports Mozilla Firefox (version 60+) and Chrome (version 67+).