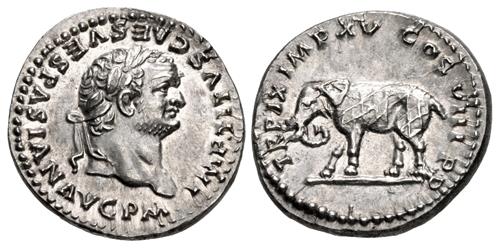 Titus. AD 79-81. AR Denarius (17.5mm, 3.32 g, 6h). Rome mint. Struck 1 January-30 June AD 80.
Triton XXIV
Lot: 1074. Estimated: $ 1 500
Roman Imperial, Coin-in-Hand Video, Silver
Sold For $ 1 700. This amount does not include the buyer's fee.
Titus. AD 79-81. AR Denarius (17.5mm, 3.32 g, 6h). Rome mint. Struck 1 January-30 June AD 80. IMP TITVS CAES VESPASIAN AVG P M •, laureate head right / TR P IX IMP XV COS VIII P P, elephant, wearing armor, walking left on exergual line. RIC II.1 115; RSC 303; BMCRE 43-6; BN 37-40. Some hairlines, traces of die rust on obverse, minor die breaks and edge scrape on reverse. EF.

The elephant on this particular issue represents one of the numerous species displayed in the newly constructed Flavian Amphitheater, better known today as the Colosseum, built by prisoners of the First Jewish War on the site of the Domus Aurea of Nero. Opened to the public during Titus' rule, in AD 80, and commemorated by Martial in de Spectaculis, the Colosseum was welcomed with great fanfare and games. During the opening ceremonies a great number of animals, including elephants, were both exhibited and slaughtered.

The final winners of all Triton XXIV lots will be determined during the live online sale that will be held on 19-20 January 2021. This lot is in Session Three, which begins 20 January 2021 at 9 AM ET.

Winning bids are subject to a 20% buyer's fee for bids placed on this website and 22.50% for all others.

We recognize that our users may have various Internet Browsers and Operating Systems. We like our visitors to have the best possible experience when using our bidding platform. However, we do recognize that it is impossible to develop applications that work identically, efficiently and effectively on all web browsers. The CNG bidding platform supports Mozilla Firefox (version 60+) and Chrome (version 67+).