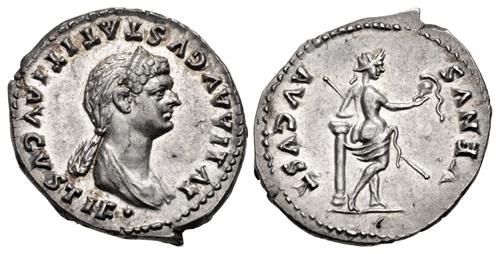 Julia Titi. Augusta, AD 79-90/1. AR Denarius (20mm, 3.34 g, 6h). Rome mint. Struck under Titus, AD 80-81.
Triton XXIV
Lot: 1075. Estimated: $ 3 000
Roman Imperial, Coin-in-Hand Video, Silver
Sold For $ 5 500. This amount does not include the buyer's fee.
Julia Titi. Augusta, AD 79-90/1. AR Denarius (20mm, 3.34 g, 6h). Rome mint. Struck under Titus, AD 80-81. IVLIA AVGVSTA TITI AVGVSTI F •, draped bust right, wearing stephane, hair in long plait down back / VENVS AVGVST, Venus, drapery hanging loosely below waist, standing right, seen from behind, leaning back on column, cradling long scepter in left arm and holding crested helmet in extended right hand. RIC II.1 388 (Titus); RSC 14; BMCRE 141-143 (Titus); BN 106-107 (Titus). Sharply struck and lustrous. Choice EF.

Ex Nomos 2 (18 May 2010), lot 180; Triton XVIII (6 January 2015), lot 1054.

Flavia Julia Titi was born in AD 65 as the daughter of Titus Flavius Vespasianus, an up-and-coming junior officer in the Roman Army. Titus was soon forced to divorce Julia's mother, whose family was implicated in a plot against the Emperor Nero. Three years later, Vespasian seized the throne and Titus, his eldest son, was named Caesar and heir-apparent. Julia was Titus's only child and grew up in the imperial palace, with all the indulgence and pampering that implies. But she also became a pawn in the deadly game of dynastic politics. In her teens, Julia evidently developed an attachment to Titus's younger brother Domitian. When she came of age, Titus (reluctantly?) proposed that she marry Domitian. But Domitian was enamored with another lady and refused the match. We don't know how she felt about this rejection, but a short time later Julia was betrothed to a cousin, Flavius Sabinus, who was just starting on his political career. In AD 79, Vespasian died and Titus became sole emperor. One of his first official acts was to raise Julia to the rank of Augusta, or Empress, the first woman in more than a decade to hold that exalted position. He struck this lovely coin for the occasion, pairing Julia's obverse portrait with a charming image of Venus with her half-covered derriere turned coyly to the viewer. Julia thus became the first reigning Roman empress to be honored with a regular issue of Roman coins struck solely in her own name.

The final winners of all Triton XXIV lots will be determined during the live online sale that will be held on 19-20 January 2021. This lot is in Session Three, which begins 20 January 2021 at 9 AM ET.

Winning bids are subject to a 20% buyer's fee for bids placed on this website and 22.50% for all others.

We recognize that our users may have various Internet Browsers and Operating Systems. We like our visitors to have the best possible experience when using our bidding platform. However, we do recognize that it is impossible to develop applications that work identically, efficiently and effectively on all web browsers. The CNG bidding platform supports Mozilla Firefox (version 60+) and Chrome (version 67+).